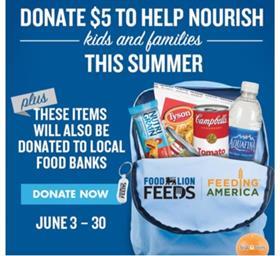 Greenyard USA/ Seald Sweet has become the first fresh produce company to sign up to Food Lion's Summers Without Hunger Campaign.
From Thursday, Food Lion customers will have the opportunity to make a US$5 donation to Feeding America and its 30 regional food banks located across Food Lion's service area.
The campaign is supported by Seald Sweet and other five major suppliers to Food Lion who will each donate up to 250,000 units of product to help fight hunger in the towns and cities Food Lion serves.
The first shipment of Seald Sweet's clementines arrived on 2 June at Maryland Food Bank, delivered by TQL, who also donated the freight.
The launch of the campaign was held on 3 June, presented by the Food Lion director of operations for Baltimore, Maryland Food Bank representative and Steve Marinello, vice president of Greenyard Logistics.
Food Lion said the campaign had been launched to provide essential support to children and their families, which has become even more urgent since the Covid-19 pandemic.
Greenyard noted that making fresh fruit and vegetables available to children was vital to providing nutritious, healthy, and delicious meals and snacks, as well as good habits for a healthier future.
"It is our mission as a company to promote a healthier future. Providing fresh fruit and vegetables to consumers, supporting communities in need are all very good reasons to go to work every day!" said Marinello.