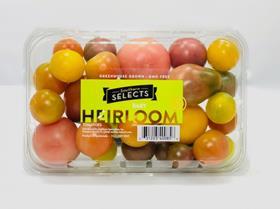 As the tomato category continues to proliferate in the US, buyers are discovering reliable, high quality heirloom tomatoes from Guatemala.
Several Guatemala Produce Trade Association (GPTA) members are marketing heirloom tomatoes to help retail and foodservice customers increase the flavour and excitement of their tomato offerings year-round.
Southern Specialties has been involved in heirloom tomatoes from Guatemala for about five years, according to Charlie Eagle, Southern's vice-president for business development.
"We were introduced to a greenhouse grower interested in producing an heirloom tomato, on a year-round basis, that offered quality beyond what was available in the marketplace," he said. "We challenged him with that task and today are proud to market Southern Selects heirloom tomatoes, Southern Selects baby heirloom tomatoes and Southern Selects yellow beefsteak tomatoes in a single layer pack. It started as a boutique programme that has experienced year-over-year growth since inception among both retail and foodservice."
Crystal Valley Foods of Miami, Florida, has worked closely with a growing partner for over three years as well.
"We tested over 40 varieties in a dedicated greenhouse to come up with the baby heirlooms that had the best flavour and shelf life to use in our mix," noted Katiana Valdes, marketing director. "The climate in the region allows for high quality, flavourful tomatoes to be grown year-round in Guatemala."
Heirloom tomatoes from Guatemala are available on a year-round basis, with growers and their US importers assure the highest quality standards for the product.
"Our grower partner is one of the food safety pioneers in Guatemalan agriculture," Valdes explained. "In addition to maintaining rigid quality and food safety programmes, they also regularly visit operations in the US, Canada, and Europe to keep abreast of advances in greenhouse agriculture techniques that impact tomato quality and flavour."