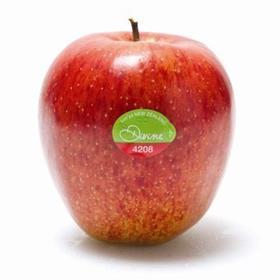 New Zealand apple exporter Heartland Fruit, based in Nelson, has become the first company in the Southern Hemisphere to plant and pack two new apple varieties which are said to be attracting plenty of interest among retailers worlwide.
Heartland is also the first company to commercially export the trademarked varieties, Divine and Adore, which were both bred by Delbard Nurseries in France.
According to Heartland's Brendon Osborn, both varieties offer enormous potential both in terms of matching consumer preferences and in terms of their resistance to disease during production.
Divine, which boasts a strong, sweet flavour, is understood to be a crisp, crunchy and juicy apple with a firm texture and attractive, traditional apple appearance.
'Divine displays a full red colour with a yellow background and is medium to large in size,' Mr Osborn told Fruitnet.com.
Adore, meanwhile, is a smaller sweet apple with a texture described as very firm and clean, white flesh.
'This is also a red apple, but has more of a block appearance with a light stripe and retains its firm pressure well in cool storage,' explains Mr Osborn. 'Adore is likely to be ideal for kids and as part of a bagging programme.'
With interest in the varieties from retailers across the globe reportedly strong, volumes are set to be limited during the first season but commercial production is expected to increase in the coming years.
'Ultimate volumes will depend on the customer demand and market selection for the varieties,' Mr Osborn suggests.
Heartland Fruit growers have been making a significant investment in disease-resistant varieties, he adds.
'These require less chemical applications than current varieties presenting an opportunity for a more sustainable production process.'
The arrival of Divine and Adore represents the first in a number of new varieties that Heartland Fruit is planning to introduce to the market over the next few years.
In time, both Divine and Adore are also set to be available a part of an organic programme.