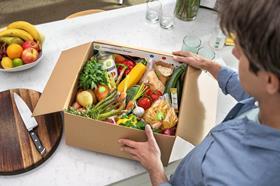 German meal-kit firm HelloFresh has announced that it is entering the online grocery business in the US with the launch of HelloFresh Market.
The digital store is set to offer customers a range of add-ons to the current home-delivered meal kit, including pantry essentials and fresh produce.
"With the launch of HelloFresh Market, we are excited to offer customers an expanded selection of delicious meal solutions and grocery items that will fit their needs beyond dinnertime, especially at a time when Americans are embracing online grocery services more than ever," said Uwe Voss, CEO of HelloFresh US.
The move follows the successful launch of HelloFresh Market in the Benelux region, where over 150 add-on items are available.
For HelloFresh, a major advantage is that the infrastructure for grocery deliveries already exists thanks to its meal kit box model.
'Through our state-of-the-art supply chain and technology infrastructure, we will provide superior full-service delivery for all meal occasions, and capture a greater share of our customers' overall food budget," Voss said.
HelloFresh customers already rate meal kit products on a weekly basis, and Voss revealed that the same system would be used for grocery items.
"If a recipe doesn't perform in our meal kits, it doesn't come back,' he said. 'If there's not interest in a grocery item, we will not continue to carry it.'