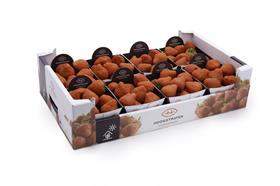 Belgian cooperative Hoogstraten has seen strong demand for its strawberries so far this season in the UK.
Despite good volumes, which were well above the same weeks last year, Hoogstraten noted that demand outstripped supply as the UK requested high quantities of Belgian strawberries.
Both October and November saw more than a 20 per cent increase in supply to the UK retail market.
The UK is an essential market for Belgian strawberries. Up to half of Hoogstraten's volume of strawberries, in some weeks, is sent to the UK when domestic production dwindles in October.
The cooperative noted that, along with its export partners, it manages a highly efficient and short supply chain, which ensures the UK receives the freshest product possible.
Synnøve Johansson, business development manager at Hoogstraten, recently visited the UK to get a feel for how their strawberries compared to other available products:
"After observing our delicious Belgian strawberries both on the retail shelf and at the wholesale market, and after sampling different varieties and origins I can only confirm that our Belgian strawberries are among the most tasty available,' she confirmed.
Regardless of a cold, wet summer, quality from Belgium has been strong and stable through the Autumn as production is coming from the greenhouses.
By Christmas, the seedlings are wrapped up and placed in cold storage throughout the winter months. These plants will form the base of next year's crop.
The cooperative said that it was optimistic about its positioning in the UK going forwards and strengthening its relationships with key industry players in the UK.
Covid restrictions and the postponement of Fruit Logistica have 'undoubtedly' had an impact on the organisation, but it remained positive nonetheless.
"We are all being confronted with the impact from quarantine and testing, orders being cancelled due to lockdowns and Fruit Logistica being postponed,' said Johansson. 'As disappointed as we are to hear about Fruit Logistica, we fully support this decision and are very much looking forward to being able to enjoy Berlin in Spring.'