Slight contraction in strawberry sales but blueberry and raspberry volume keeps on growing
The Spanish province of Huelva produced 270,120 tonnes of strawberries in 2021/22, a decrease of 4 per cent on the previous season.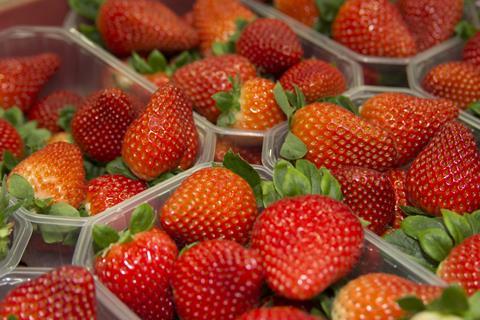 The figures, published today by Freshuelva, reflect a difficult season for the industry. While the average sales price increased by 2.8 per cent compared with 2020/21, this was not enough to offset the steep rise in production costs, meaning many producers saw the profitability of their crop reduced.
The strawberry campaign that began with low volumes of fruit due to the cold in December and January, although Freshuelva said fruit quality had been very high throughout the season.
"Added to this is the fact that this season we had to allocate a good part of the production to the processing industry due to the heat of the last weeks of the campaign, reducing fresh sales," the association said.
"The higher-than-average temperatures at the end of April and May favoured the entry into the market of strawberries from other European countries that compete with Spanish fruit at the end of the campaign."
In addition to higher costs and climatic adversity, the Huelvan sector had to deal with the disruption caused by the nationwide transport strike that occurred in March, right at a peak of the season.
With regard to raspberries, total production reached 49,990 tonnes, an increase of 7.5 per cent on 2020/21. The average sales price of raspberries increased by 1.5 per cent.
Freshuelva said raspberries had remained very stable in demand and price during practically the entire campaign, with good quality across virtually all varieties.
The biggest increase in production was seen in blueberries, which, grew 20.2 per cent to 59,100 tonnes compared with the previous year.
This was mainly due to more plantations reaching their productive peak. However, blueberries experienced a sharp drop in the average sale price, which was down 18 per cent on 2020/21.
"Although the start of the campaign was marked by a delay in ripening in the first months of the year, later the high temperatures in May caused fruit to ripen rapidly, leading to different varieties coinciding along with fruit from other origins," Freshuelva explained.
"This led to oversupply and consequently a drastic drop in prices over several weeks. So it has been a very difficult season for blueberry growers."
Blackberry production remained stable at 2,000 tonnes, although again, average prices were down, in this case by 6 per cent.
Germany and the UK continue to be the main destination countries for berries from Huelva. In the case of strawberries, the UK overtook France to become the second biggest market despite Brexit. In raspberries and blueberries, the Netherlands was the third biggest market for the sector.