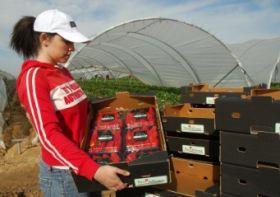 Spanish soft fruit association Freshuelva, plant protection association Aepla and the regional government have launched a joint initiative to raise awareness on the responsible use and handling of phytosanitary products.
Freshuelva manager Rafael Domínguez said the #RESPBerry project formed part of a wider sustainability strategy that the industry embarked on several years ago to improve the quality and safety of Spain's berry offer.
Speaking during the launch of the campaign at Fruit Attraction LIVEConnect, Domínguez said: "We want to reach all Huelvan farmers, just as the new season gets underway, because the responsible use of phytosanitary products is essential if we are to continue providing quality products to the market".
Carlos Palomar, CEO of Aepla said the project aims to raise awareness among berry producers and train them on how to apply phytosanitary products correctly, as well as evaluating them and making technological improvements in order to advance their use.
"Producing good quality products at a good price is no longer enough, the focus is turning increasingly on how they are produced – in fact, environmental and social sustainability are as important as economic considerations," Palomar said.
With more than 11,000ha of berry acreage, Huelva is the biggest soft fruit producing region in Europe. Between January and June of this year, strawberry exports alone totalled €420m.
Eurofruit Magazine
Enjoyed this free article from Eurofruit Magazine and its team of editors? Don't miss out on even more in-depth analysis, plus all the latest news from the fresh produce business. Subscribe now toEurofruit Magazine.