The Sustainable Trade Initiative is backing the collaborative approach on living wages in the banana supply chain pursued by a coalition of Belgian retailers
Last month, five leading retailers in Belgium teamed up in their commitment to a living wage for banana workers along their international supply chains.
The aim of the coalition, made up of Colruyt Group, Delhaize, Aldi, Lidl Belgium and Luxembourg and Jumbo, is to close the living wage gap by the end of 2027 for bananas sold on the Belgium market.
The commitment was signed at December's Living Wage Summit with the support of IDH, the Sustainable Trade Initiative, which called the move a "major step for the Belgian market and adds to the efforts of similar commitments from German and Dutch retailers".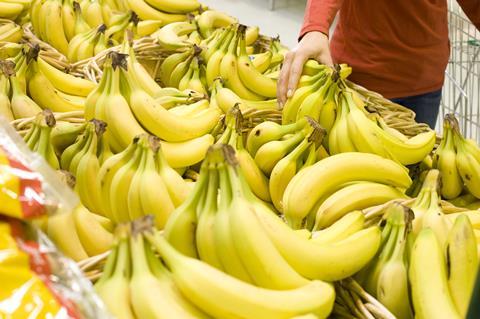 In 2021, banana consumption in Belgium stood at around 7.8kg per capita, mostly imported from Costa Rica, Ecuador and Colombia.
"A living wage ensures that, in a particular time and place, the remuneration received by a worker is sufficient to afford a decent standard of living for the worker and their family," IDH stated. "Elements of a decent standard of living include food, water, housing, education, healthcare, transport and other essential needs (including provision for unexpected events). As such, closing the gap between the current wage and the required living wage improves a workers' standard of living."
IDH said that living wages were a key element to lift people out of poverty. "This coalition's commitment is therefore a milestone, showing that major market competitors are willing to work together on pre-competitive solutions that contribute to the realisation of different sustainable development goals," it stated.
According to IDH, the retailers will use the coalition to "set joint objectives, exchange knowledge and learnings, align on approaches and timings, monitor progress and initiate joint action on the ground, where possible".
In order to maximise the impact, the Belgian retailers are set to work closely with other existing living wage coalitions such as the Dutch Retail Commitment on Living Wages and the German Retailers Working Group on Living Wages and Living Income.
IDH's Astrid Baeten commented: "When it comes to food system transformation, a collaborative approach is more efficient as the impact of individual parties can be limited, especially when buyers have a small market share and suppliers sell their harvest to multiple buyers."
The retailers have reportedly agreed to work according to the IDH Roadmap on Living Wages and make use of the corresponding tools. They are set to calculate the living wage gap in their supply chains on a yearly basis using the IDH Salary Matrix.