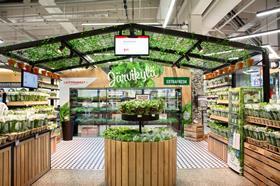 Grocery analyst IGD has revealed this year's must-see retail stores, outlets that it says are pushing boundaries and moving the industry forward.
Its new study, entitled 'Top stores to visit in 2022', highlights how retailers continue to invest in their physical estate, to create shopper destinations that compete with rival stores and the expanding online and quick commerce channels.
"Shopper behaviour and priorities have evolved quickly since the emergence of Covid-19 and retailers have reacted by creating store experiences that stand out," comments Jon Wright, head of retail insight for Europe.
"From hydroponic herb greenhouses and walkout payment technology, to restaurant meals and refill stations, we are seeing some really exciting new concepts and opportunities that drive footfall and spend."
The list features more than 30 European stores selected from the world's new store launches and refits.
The stores have been reviewed and ranked against five themed criteria that form IGD's Store of the Future model: exciting and experiential, digitally enabled, highly efficient, omnichannel native, and naturally sustainable.
The list of must-see stores includes:
Exciting and experiential
K-Citymarket, Tammisto (Finland)
"Pioneers of Finland's first hydroponic herb greenhouse and Europe's first hypermarket-based brewery."
Digitally enabled
Carrefour Flash, Paris (France)
"A seamless experience, accessible to all."
Highly efficient
Kaufland, Bergkamen (Germany)
"Meeting shopper missions in an effective way."
Omnichannel native
TYPY, Dusseldorf (Germany)
"Enhanced service and experience driven by data."
Naturally sustainable
Asda, Milton Keynes (UK)
"Reducing plastic with a dedicated refill zone."
To hear more about the must-see stores of 2022 and the trends that are shaping the market, suppliers and retailers in Europe are invited to join a free IGD webinar on 10 February at 11am CET / 10am GMT.
To register for the event and a free preview presentation, visit: the IGD website.