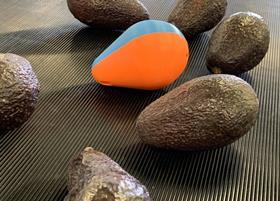 As supermarkets, food manufacturers and growers in the UK pledge to halve food waste by 2030, crop quality monitoring specialist Martin Lishman has launched an innovative damage prevention device designed to help solve the problem.
To combat the 10.2m tonnes of food waste in the UK and the 1.3bn tonnes globally, each year, Martin Lishman has designed and developed a shock and temperature monitor which it says has the capacity to help the food industry reduce the damage to fresh produce during handling and transportation.
ImpacTrack, a monitoring and logging system which records movement and temperature, is available with a range of shells which match the dimensions of fresh produce, so far including avocados, kiwifruit, strawberries, apples, onions, potatoes and eggs.
By recording and reporting on the journey of fresh produce through handling, packing and transport processes, food producers and hauliers will be able to make informed modifications to their processes to reduce the amount of food which is regularly wasted because of damage such as bruising.
"Fresh produce is delicate and any knocks and bumps and dramatic changes in temperature can result in it being rejected at several stages from field to fork,' said Dr Gavin Lishman, managing director of Martin Lishman. "ImpacTrack can be used to monitor any item as it travels down the production line and we've been asked to make shells for everything from maize cobs to large blueberries.
'Results are transmitted in real time using Bluetooth to the ML Sensing iOS/Android app, to help identify damage sources and improve quality control,' he continued. "Operators can also use the application to record the journey of fresh produce during shipping."
Greenyard tests
In a recent test by the UK-based arm of the Greenyard Group, the technical team put ImpacTrack through its paces at its avocado grading line.
The tests, which were undertaken in November 2018, used an ImpacTrack logger within a 3D printed avocado-shaped shell to track the movement of the fruit as it was handled and processed through grading machines.
Since the shell was designed to mimic the size and density of the avocados being processed, it behaved like the real fruit. This meant the team was able to record the gravity force (g-force) the fruit was subjected to and any potential bruising this could create in the avocados; the objective of using the ImpacTrack being to reduce potential wastage created during the grading process and improve material utilisation.
"Following the results of the ImpacTrack tests we were able to implement modifications to the grading and packing equipment which has reduced the g-force impact to the fruit,' noted Greenyard Fresh UK's technical manager Sebastian Janik. "Prior to the implementation of the ImpacTrack, the grading and handling processes were creating levels of wastage. However, with a number of straight forward modifications to the equipment our fruit utilisation has increased with negligible wastage levels.
"I would recommend ImpacTrack to those undertaking postharvest grading and handling within the fresh produce sector,' Janik added. 'As the device can be manufactured to the shape and density of the product you are monitoring, this provides a true reflection of the process. I believe it is an excellent device to be used in postharvest handling."