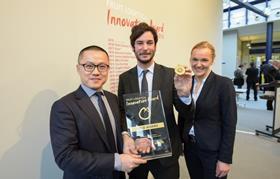 With Fruit Logistica on the horizon, the nominees for this year's Fruit Logistica Innovation Award (FLIA) have been unveiled, recognising the best new products and technology that the industry has to offer.
The Fruit Logistica Innovation Award is presented annually at the Berlin event, honouring outstanding innovations across the entire fruit and vegetable supply chain from production to the point of sale.
Of all the entrants, the ten best innovations – selected and nominated by an expert jury – have now been selected.
The winner of the FLIA 2020 will be chosen by visitors to Fruit Logistica, who cast their vote for the best innovation of the year on the first two days of the exhibition.
The winners of the Gold, Silver and Bronze awards will be announced on the final day of the exhibition at the special FLIA award ceremony, one of the highlights of the event.
The nominees are:
- Coconut automatic opening machine K30 – Shanghai FruitPro Information Technology Co. Ltd – China: The K30 is a microcomputer controlled machine which opens coconuts safely and hygienically using patented blades, so that the consumer can enjoy both the coconut water and the flesh. Algorithms automatically adjust the depth of the opening as well as the timing to suit each individual coconut.
- Compostable, Flexible, Printed, Packaging – Silbo SP. Z.O.O. – Poland: Certified compostable and environmentally friendly, solvent-free fruit and vegetable packaging which is made with water-based inks and adhesives. Using flexo technology, the water-based inks can be printed onto a wide variety of composite materials.
- New Downy Mildew Resistant (High) Sweet Basil – CN Seeds Ltd – UK: Genetically resistant seeds which can be used all over the world to combat downy mildew in the most common sweet basil variety, Ocimum. An environmentally friendly and cost-effective solution for a plant which is otherwise susceptible to disease.
- Mosswool – Novarbo Oy – Finland: These moss wool panels are harvested according to a patented ecological process and represent a sustainable alternative for stone wool substrate in vegetable cultivation. As a result of the organic raw materials, they can be simply and cost-effectively composted together with other harvest residues or recycled after use.
- Proband V1000 – project Service & Produktion GmbH – Germany: The first banding machine with interchangeable frames which can process all band widths from 25 to 60 millimeters in different band thicknesses from 35 to 210 micrometers. It is optimised for handling paper bands with a plastic content of less than 5 per cent.
- Sinclair EcoLabel – Sinclair – UK: A high-performance, food-safe and fully compostable labelling solution for fresh produce which disintegrates within 12 weeks and biodegrades within 180 days, becoming part of the usable soil. OK compost – Industrial and Seedling certified, Sinclair EcoLabel meets the European Standard EN14332 for compostable and biodegradable packaging.
- SoFruMiniPak EcoView – SoFruPak Witold Gaj – Poland: A simple, quick-close packaging for fruits and mushrooms, available with a separate or integrated lid. The renewable raw materials combined with good ventilation characteristics ensure optimised cooling and 100 per cent biodegradability.
- Tenderstem Royale – Sakata Vegetables Europe SAS – France: A natural cross between Chinese green cabbage and broccoli with an unmistakable purple stalk. Every part is edible from the stem to the tip. The tender, sweet stems are not only low in fat, sodium and sugar, but also rich in protein and fibre.
- Tomato Yoom – Syngenta Seeds B.V. – Netherlands: A new tomato product line with an unmistakable dark purple colour rich in anthocyanins, and a unique sweet-sour umami flavour. This innovative variety is suitable for all seasons and growing conditions including artificial light.
- Violì – Apofruit Italia Soc. Coop. Agricola – Italy: A tender soft artichoke hybrid, slightly purple in colour and grown according to precise production specifications and control plans. This ensures consistent calibres and unique quality levels. Violì is available nine months of the year.