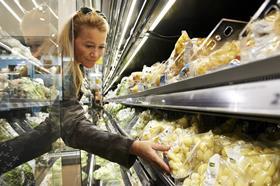 Quality monitoring specialist Innovative Fresh will change its name to Normec Foodcare on 18 January, the company has announced. The change follows last summer's merger with Normec Foodcare, a leading provider of food quality and safety analysis.
Innovative Fresh was founded in 2008 by Maud Jentjens and Jelger de Vriend, in the belief that the quality of fruit and vegetables can be improved. That conviction remains, says De Vriend.
"If you ask consumers what they think is really important about fruit and vegetables, the answer is always: quality," he comments. "So we look through the eyes of the consumer. With this focus on quality, in addition to measuring and analysing, we see a growing need for services in the field of inspection, training and shop inspections."
In a global business as complicated as fruit and vegetables, quality is very much in the spotlight, with each part of the supply chain facing its own challenges and affecting overall quality,
According to De Vriend, the merger of Innovative Fresh with Normec Foodcare has created a partner that can make an even better contribution to quality throughout the entire fruit and vegetable chain, from farm to consumer.
"We have worked hard to integrate our two organisations and are pleased that the name change from January 18, 2021 is also a fact. Together we make a difference in the daily lives of millions of consumers. Talk about impact," he adds. "In addition, Normec Foodcare has an international strategy, [so] our customers benefit from that scale."
Normec Foodcare originated from a collaboration between leading laboratories, test centres, expertise and consultancy firms, and inspection and training organisations in the food sector.