Better consumer engagement is the key to shaking up the banana category and increasing sales, says Fyffes' Juan David Alarcón
Bananas may be a shopping basket staple but they are not the most exciting item in the produce aisle. While the past few years have brought a wealth of new varieties and flavours in other categories like berries or grapes, little has changed in the case of the humble banana. In fact, you could say that Cavendish has a bit of an image problem.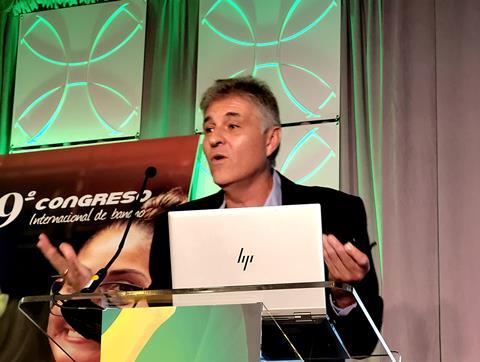 But there are opportunities to inject more innovation into the banana category, according to Juan David Alarcón of Fyffes North America. Presenting the company's latest consumer research on the US market at Corbana's International Banana Congress in Miami last week, he highlighted a number of ways to give the category a much-needed refresh.
First the good news: bananas have the highest penetration in the fruit and vegetable category, with 76 per cent consumers buying them a minimum of once a year and at least 60 per cent consuming them at least once a week. They are healthy, affordable, versatile and convenient, in short, the ideal fruit.
So why then has sales growth – at least for conventional bananas – been so sluggish over the past four years? One problem is that in most US stores, the fruit is sold under just two SKUs, conventional and organic, and with minimal packaging, leaving very little room for differentiation. This is further limited by the fact that most retailers only stock a single brand, so even though brand recognition is high, this doesn't influence purchasing behaviour.
Alarcón said one way of adding value and creating more depth within the category is to introduce more SKUs based on different levels of ripeness. "Colour and texture are the key purchase drivers, with the average consumer buying bananas at an earlier stage of ripeness and waiting a couple of days eating them, suggesting there is a window that could be filled," he said.
He urged retailers to do more to engage with consumers and share the many benefits of bananas – namely that they are healthy, affordable and sustainably grown. "Our research shows that more than two-thirds of consumers want to get their product information at the point of sale, rather than through social media or online, so this is where we need to focus of efforts," he explained.
Part of the problem, Alarcón explained, is that retailers don't fully understand what the consumer wants. "Supermarkets see bananas as an everyday low-price item and their main focus is therefore to keep prices as low as possible but in reality most consumers have no idea how much a pound of bananas costs," he said. "We need to find common ground between the two."
Online shopping also has the potential to drive banana sales. Although US online grocery sales decrease between March 2022 and March 2023, Alarcón believes this was likely the result of a post-Covid readjustment and temporary belt tightening due to inflation. and that the long-term outlook remains bright.
"The long-term outlook for this channel is bright, but we need to understand more about what drives consumer behaviour so that their online experience can reflect how they shop in-store," he said.
In summary, more consumer engagement is the key to driving sales growth and injecting some much-needed excitement in the banana category. "The opportunities are there, we just need to convince the retailers to take them," Alarcón concluded.