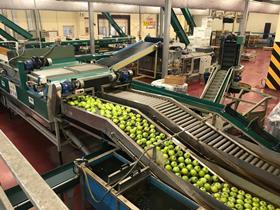 As the coronavirus outbreak continues to send shockwaves through the European market, fresh produce companies in Italy are attempting to meet rising demand from supermarkets while simultaneously contending with major new challenges in terms of logistics and workforce.
"We're doing what we can," comments Stefano Pezzo, manager of Verona-based company Cherry Passion-Bragantini and Veneto's regional president at trade association Fruitimprese. "I'm here in the packhouse and we're packing apples for sale to customers in Germany, Scandinavia and the domestic market."
With increasing numbers of people across Europe being asked to self-isolate, the emphasis appears to be on purchasing larger volumes through major supermarket chains.
As a result, there is more pressure on suppliers to land produce in retail distribution centres, and more pressure on buyers to secure additional volume – in some cases direct from wholesalers who in turn have seen demand from foodservice customers fall dramatically.
"Demand for the fruit itself is good, and as mentioned prices are higher. But getting it to market is a huge challenge right now," Pezzo told Fruitnet.
Demanding situation
For Turin-based importer Battaglio, it's more or less business as usual, despite more pronounced peaks in demand and the obvious need to stay vigilant in terms of personnel.
"The supermarkets are open and we are working every single day," says group president Luca Battaglio. "We have created a rota in the office and in the packhouse and we've had no infections in our company. We are being very careful and we have taken a lot of precautions."
The impact on distribution of fresh fruit and vegetables within Italy has been immense, says Pezzo.
"Since late February, people have been staying at home and that has seen a big shift in consumption to the supermarkets. People are only shopping at the supermarkets and as a result they're selling around 30 per cent more than usual."
As a result, companies like Cherry Passion-Bragantini are having to find ways to supply more.
"The wholesale markets are still operating but the street markets, the mercati rionali, are shut," Pezzo adds. "Smaller independent retailers are trying to stay open, but it's really just the supermarkets and the pharmacies."
Logistical headaches
Keeping the flow of produce moving appears to have been a cause for concern over the past week in particular..
"On the export front, there has been a slowdown in terms of logistics but we keep working because our products are needed across Europe," says Alessandra Ravaioli, a marketing and communications specialist who works with a number of different Italian fresh produce companies.
As Pezzo points out, it's the effect of the virus itself on people in the supply chain that is causing most concern. "Those logistics companies are facing staffing issues as well," he notes. "Some of their people have to stay at home, which limits the workforce and makes it hard to manage. Alternative workers aren't available, so it's a bit difficult."
One of the other issues on the logistics front is that lots of international transport companies are struggling to get into Italy, or indeed are deciding not to make the journey.
"Traffic through the Brenner Pass is bad, with big queues of lorries on both sides resulting from extra controls on the drivers," Pezzo explains. "As a result, some don't want to come and load in Italy. Because they are avoiding these journeys, there are not enough trucks available."
Exports have decreased a lot, especially in the last week, he reveals. "The countries we supply to the north are behind us in terms of the virus's spread, so everything is changing rapidly. It's a very unpredictable situation. Every day, the markets that are taking product or closing shops seems to be changing. We're just working day to day."