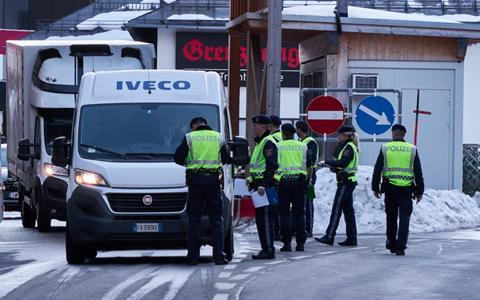 Fruit and vegetable exporters in Italy face an uphill struggle to get their products to market in time, after Austria and Germany imposed new border restrictions at the weekend to stop the spread of Covid-19 in central Europe.
Long queues of lorries have built up at key entry points since the controls were introduced on Sunday – including one reportedly stretching back from the Brenner Pass to Bressanone, around 40km to the south.
That has put the safe and timely arrival of fresh produce bound for Germany, Austria and Scandinavia in serious doubt. In response, exporters are calling for perishable items to be fast-tracked across EU border checkpoints.
'The biggest problem is for those who make long journeys,' said Pietro Mauro of national trade association Fruitimprese, speaking to Italiafruit. 'Whoever leaves Sicily with a load of fruit and vegetables and needs a valid test within 48 hours, runs the risk of falling short.'
Apple suppliers in Italy's South Tyrol region have reportedly been working with the local authorities to roll out rapid testing kits to drivers, but the congestion remains substantial.
Georg Kössler, president of the Vog association, told Italiafruit: 'There are fruit and vegetable exporters from all over Italy who will certainly suffer delays, and who knows when they will deliver the products to supermarkets across the border.'
The new restrictions come in response to a recent surge in infections caused by the so-called South African variant.
As a result, drivers heading from Italy through the Tyrol region must now pre-register and provide evidence that they have tested negative for coronavirus during the previous 48 hours.
At the same time, Germany has closed its borders with the Czech Republic and Tyrol, potentially presenting Italy's fresh produce lorries with a further hill to climb.