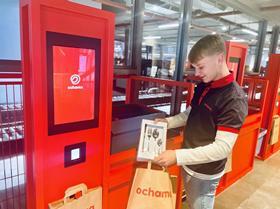 China's largest online retailer JD.com has opened its first two Ochama stores in Europe, a move that presents a challenge to Amazon's own bricks-and-mortar presence in the market.
The company wants to provide faster, easier and more convenient delivery of a range of goods – including fresh fruit and vegetables – to shoppers via its highly automated omnichannel retail model.
According to JD, the new model introduces "an unprecedented shopping format" that merges online ordering and collection points.
The Ochama outlets, which are located in Leiden and Rotterdam in the Netherlands, are both designed to serve as pick-up locations for consumers who order online.
Their orders are put together by robots and then made ready for collection in the stores, or alternatively they can delivered to the shopper's home address.
Two more Ochama stores are due to open soon in Amsterdam and Utrecht.
"With rich experience in retail and cutting-edge logistics technologies that the company has accumulated over the years, we aspire to create an unprecedented shopping format for customers in Europe with better price and service," said Pass Lei, general manager of Ochama, JD Worldwide.
Urban convenience
In a press release, the company added: "The omni-channel model allows shoppers the convenience of ordering products online through Ochama's app, where a full range of A-brand products are offered covering fresh and packaged food, household appliances, beauty, maternal and child products, fashion, home furnishings and more."
At automated warehouses next to the collection points, automated ground vehicles and robotic arms collect products and bring them together.
"By simply scanning the app's QR code at the check-out, shoppers can watch as their orders are carried to them by the conveyer belt, as part of a cashierless and hassle-free shopping trip."
Ochama's chief operation officer Mark den Butter noted that, by utilising new logistics and supply chain management technologies, the shops can bring down the price of products "by an extra 10 per cent", to the benefit of the chain's member customers.
JD.com apparently chose The Netherlands for its first stores because of the country's highly urbanised structure.
"Dutch people are passionate for innovation and a green environment, and Ochama's shopping format is designed to contribute to both aspects," Den Butter added.
"There will be no queue and fewer traffic jams to do the chores as they can go for convenience, benefits and everything in one stop at Ochama."