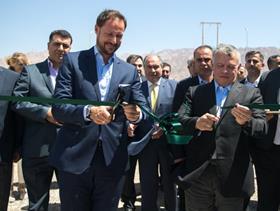 Last month saw the inauguration of the Sahara Forest Project launch station in Jordan in the presence of His Majesty King Abdullah II of Jordan and His Royal Highness Crown Prince Haakon of Norway.
The unique 3ha facility is located outside the Jordanian port city Aqaba. The Sahara Forest Project utilises sun, saltwater, desert areas and CO2 to produce food, freshwater and clean energy.
The project has been realised with financial support from the European Union and the Norwegian government, with Norwegian minister of climate and environment Vidar Helgesen taking part in the royal visit, as well as the subsequent conference.
"The Sahara Forest Project demonstrates that innovative application of technology has the potential to revolutionise our land use systems in a way that benefits the climate, people and business," he said. "I, for one, am extremely excited to see how this project develops and how it can inspire other similar initiatives."
Egidijus Navikas, the chargé d'affaires for the European Union delegation in Jordan, described the project as a "model for energy, water and food security in Jordan".
Joakim Hauge, CEO of the Sahara Forest Project, said that the ambition of the project was to revegetate desert areas and contribute to social development through the creation of green jobs. "We want to achieve this through profitable production of food, freshwater, biofuels and electricity," he said. "Everything we do on the ground in Jordan is measured against three goals. Our activities need to be good for people, good for the environment, and good for business."
And Hauge stressed that the launch station was merely the start. "Even though we are extremely proud of what we have achieved so far, this is not the end point," he said. "It is only the beginning. Jordan may very well be the hub for green growth systems in the near future."
The launch station paves the way for large-scale expansion of restorative farming in Jordan, including the 20ha Sahara Forest Project Jordan Centre.
Key facts from the Centre:
- Up to 130 tonnes of vegetables produced per year
- 10,000 litres of fresh water produced per day
- Solar power production from photovoltaic panels
- 3ha of land
- 2 greenhouses with a total of 1350m2 of growing area
- 3,200m2 of outdoor planting space
- Salt ponds for salt production