During his tenure the market saw continued growth and major gains in its sustainability, talent and innovation agenda
Jordi Vals has stepped down from his position as managing director of Mercabarna, Europe's biggest wholesale market, to take up a new position on Barcelona City Council.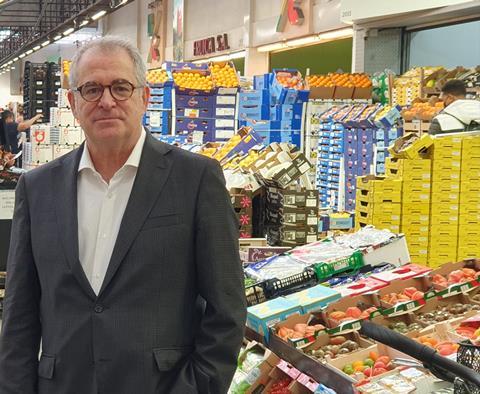 Vals was appointed in September 2020, at the height of the Covid pandemic. He ensured that the market continued to distribute food to the citizens of Catalonia throughout the health crisis.
On his appointment, Vals developed a new 2021-26 strategic plan based on the sustainability, growth and resilience of the market, as well as fostering new talent and innovation.
One of the most important milestones achieved during his tenure was the expansion of the Mercabarna site. At the end of 2021, Mercabarna acquired 17ha adjacent to its premises that were owned by the Barcelona Free Zone Consortium to expand the market.
In February 2021, Vals hosted the Barcelona Food Institute within Mercabarna, which now trains up around 500 students each year to work at the companies housed within the site.
Other notable achievements include the launch of Mercabarna's Foodbank, a pioneering centre for food use integrated into the market's waste management system, which allowed it to cut its food waste.
In October 2022, Mercabarna began work on the construction of the largest rooftop photovoltaic plant in the Iberian Peninsula. When finished in 2025 it will save the equivalent of 6,000 tonnes of CO2 a year.
Under Vals's management, the market also launched the Mercabarna Proximitat scheme, which aims to promote local producers and local food sold in the market and will be operational by the end of 2023.
The modernisation of the Green Point is also due to be completed by the end of this year. This will increase the recycling of commercial waste generated by food companies from 73 per cent to 80 per cent.
"In economic terms, Mercabarna has achieved optimum indebtedness and profitability ratios that allow it to be self-sufficient to solidly face the volume of future investments planned," the market said.