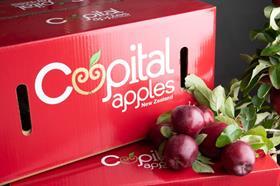 JR's Orchards is set in increase its apple export volume by around 20 per cent this season with increased demand from online shopping helping to drive growth.
Despite the disturbances caused by the coronavirus (Covid-19) pandemic, the New Zealand-based exporter has still been able to effectively supply markets across Europe and Asia.
Jamiee Burns, operations director of JR's Orchards, said demand from supermarket programmes in Europe and the UK remained strong throughout the season in response to increased demand from online shoppers seeking healthy foods during lockdown.
"Of the six premium apple varieties we produce, we exported 50 containers of Sunglow Red apples to Asia (specifically China, Taiwan and India) and the Middle East as forecast," said Burns.
"Demand for our Capital brand apples, including a new offering launched into Asia this season, has continued to gain ground."
The harvest, which began in March, is will end in June is set to produce 250,000 cartons, up from 210,000 cartons in 2019 due to additional trees coming into production. JR's Orchards is set to plant another 9,000 trees this winter.
"Before global markets went into lockdown, buyers became conservative and then inconsistent with their orders and began looking for new or extra deals. Our market in India – which is still developing – was very slow to start but is having a late burst now," said Burns.
"Covid-19 has had minimal impact on our operations. Timing and planning served us well as our harvest started before the world went into lockdown, orders were already in, containers booked and our workforce organised and accommodated."
Still, following the onset of the pandemic JR's Orchards implemented a number of procedures to continue to operate safely during New Zealand's lockdown.
"We installed plastic sheeting down the lanes and reduced staff by 10 to help with segregation. We also increased sanitisation and the frequency of sanitisation on all equipment," explained Burns.
"In the orchard, as pickers already work individually in their own rows, measures included more stringent and frequent cleaning of ladders, vehicles, forklifts and other equipment. We also hired a bigger bus to transport workers to and from the orchard, which allowed them to spread out during transit."