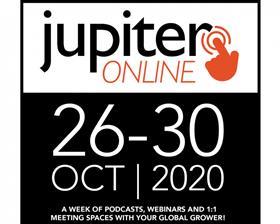 Global fresh produce grower Jupiter Group has unveiled its inaugural digital event, Jupiter Online, which will run from 26-30 October.
The event will see Jupiter releasing a series of podcasts and opening up one-on-one meeting opportunities alongside a live midweek webinar focusing on food security, sustainability and blockchain solutions.
The week-long digital event will provide multiple opportunities to join, watch and listen online with key global players from Jupiter Group, alongside a number of special guests.
The main event during Jupiter Online will be webinar on Wednesday 28 October, hosted by Jupiter chief executive Mark Tweddle and joint managing director Yvonne Tweddle, who will be joined by Gary Loh, CEO and founder of DiMuto, Jupiter's blockchain solutions provider.

The live webinar will discuss 'Security vs sustainability' and the direct impact on customers and consumers alike, with Jupiter's leaders along with Gary Loh, opening up on Jupiter's recent blockchain developments with a discussion on the group's brand-new traceability technology.
During the event, the global group will release a series of podcasts, touching on the fresh produce industry landscape, business and farming, as well as a mixture of fresh fruit category news and new variety produce.
Released daily, listeners of The Pod can look forward to consumer insight chat with data intelligence consultancy Kantar's consumer insight director, a discussion of all things avocado between Jupiter Group's commercial director and the category director of Oppy, while a founding member of Global Women Fresh will also join the Jupiter team to discuss equality in the agri-fresh space.
Other releases throughout the week will include an update on new variety grapes, the importance of corporate wellness initiatives as well as ways to manage farming remotely with the CEO of software solution provider, KisanHub.

Enjoyed this free article from Eurofruit Magazine and its team of editors? Don't miss out on even more in-depth analysis, plus all the latest news from the fresh produce business. Subscribe now toEurofruit Magazine.