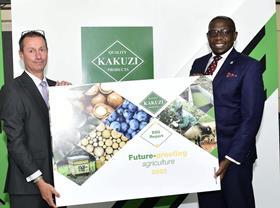 Kenyan exporter Kakuzi has become the first agricultural counter player at the Nairobi Securities Exchange (NSE) to release its Environmental, Social, and Governance (ESG) report, as listed firms start adopting NSE guidelines for the annual publishing of such disclosures.
Managing director Chris Flowers said the firm had invested more than KSh1.6bn over the last four years to enhance its operations, mitigate governance risks and ensure global standards were maintained.
The latest Kakuzi ESG report, titled 'Future-proofing agriculture', highlights the Murang'a County-based firm's involvement in the surrounding community, employing around 3,000 people daily, with more than 5,000 school children attending public school facilities within its boundaries.
'This ESG report represents our holistic approach to measuring our Economic, Social and Environmental impact across our business," said Flowers. "The report also highlights our commitment to sustainability and is aligned with the UN Sustainable Development Goals (SDGs) framework."
He stressed the need for close monitoring of agricultural activities to avert climate change-related risks. 'Through climate change we are now faced with one of the most significant threats to our world," said Flowers, "and we as agricultural business leaders have a pivotal role to play."
Agricultural engagements, he added, must go beyond being carbon net zero and have a positive contribution to climate change. "We must become Carbon Positive," Flowers urged.
According to Flowers, Kakuzi was the first company in Kenya, if not East Africa, to implement an Operational Level Grievance Mechanism (OGM) aligned to the UN Guiding Principles of Business and Human Rights. Known as Sikika ("Be heard"), the process addresses grievances in a "transparent, credible, legitimate, and, where appropriate, independent manner."
The company is also the first in sub-Sahara Africa to establish a functional Independent Human Rights Advisory Committee (IHRAC), which it said underscores the firm's "commitment to maintain and uphold human rights as part of its agri-business excellence pillars".