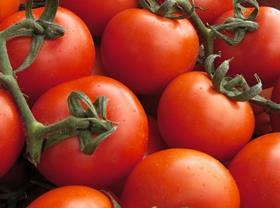 Thanks to an increase in the number of Kenyan tomato exporters sending to markets in Europe and the Middle East, exports from Kenya could well rise this year.
Economists have predicted that the high ratio of business society loans toexporters could enable individual export businesses to further expand.
"Demand for tomatoes in Europe in the restaurant, hotel and supermarket sectors has given exporters a lot of hope, making banks andbusiness societies cash in on their profits and assist in theirexpansion,' said Stephen Mbithi, CEO of FPEAK, the Fresh Produce Exporters Association of Kenya. "There has been a great improvement as the country last year exported over 270,000 tonnes of tomatoes, three quarters going into the European markets.
"The exporters form community loan-giving groups such as businesssocieties, and all they need is collateral based on their currentproduce in case they fail to repay their loan,' said John Kaburu, leader of a community business society in central Kenya called ABAN with amembership of 400 tomato growers. 'In return, we sell theremaining produce to recover our money or use their cash savings fromthe society. The loans are taken off from their savings in the business societies if they fail to pay back. The good news is that the repayment rate has been a whopping 99.4 per cent.'
He says that most tomato exporters are individuals and not companies,and the society hopes to expand its loans to another 976 tomatoexporters before the end of the year. Other societies have given loans to another 2,000 exporters, based on Central Bank of Kenya figures.
The new bank loans to tomato exporters are expected to boost exports by 25 per cent to Europe, according to leading Kenyan economist Germano Mwabu. The UK and the Netherlands remain Kenya's largest export markets for Kenyan tomatoes.
A community business society in central Kenya, comprising over 1,500tomato growers and exporters, is helping create wealth and moreemployment in the export industry.
"I have savings of more than US$7,000 and I have encouraged partnershipswith new exporters in the horticulture industry, especially for tomatoes,' said Innocent Mwangi, who lives in central Kenya and exports tomatoes from his farm. 'I do get community loans and my business has expanded to the UK. I have influenced new and upcoming exporters to come into the business. It is lucrative and I can afford to feed my family.'
Currently, there are over 6,000 registered tomato exporters in Kenya,but the number is expected to double this year as more people getenticed into the business.
Community loan-giving schemes, formed by groups of exporters thatcreate business societies, are paying off well. According to the Central Bank of Kenya, which legally registers such organisations, the repayment rate is high at 99.4 per cent and could help in the further growth of the Kenyan tomato sector.