"There is space for both commodities and clubs today in this world," says chief executive Jürgen Braun
Innovative South Tyrolean apple marketer Kiku feels it has another ace card to play. The group, which already sells a number of successful branded varieties including Kiku, Isaac and Crimson Snow, heads to Fruit Logistica in February 2023 with another trick up its sleeve in the form of Alnova, an early harvesting strain of Pinova.
According to the company, Alnova can be harvested a few days after Gala. It is also said to ripen "very quickly" and can therefore be harvested within one to two weeks, which means pickers are then later free to focus on a Pinova or Golden Delicious harvest. As such, it could be an ideal way to make an earlier start to a sales campaign.
Kiku CEO Jürgen Braun notes that Alnova is not part of a club system, since growers can grow the strain without being legally obliged to sell it under a specific proprietary brand.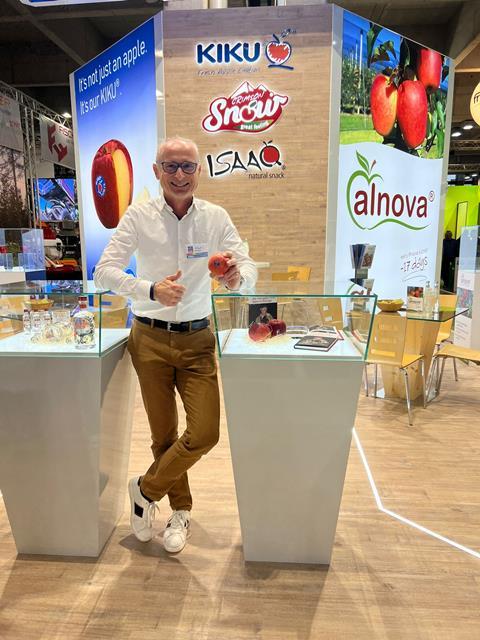 But with so many different varieties – licensed and open source – already in the market these days, he accepts that not everyone is convinced the regular addition of new apple types is sensible.
At the recent Interpoma trade fair in Bolzano, just a few miles from Kiku's base in Girlan, a selection of 60 different club varieties were put on display. For some growers, this multitude of varieties can be overwhelming and confusing.
"Well, I strongly believe that there is no black and white," he responds. "I am sure the the right mix between clubs and commodities is the right way to go. I understand some people are tired of this club 'inflation'. But on the other hand, I can tell you that growers feel at home with this improved strain of Pinova."
Braun underlines the point about growers' freedom to sell his new apple as they wish. "You know, they can plant the tree with no obligation. They can sell it under the name Pinova. There is no big fuss and they feel comfortable. So again, my opinion is crystal clear. There is space for both commodities and clubs today in this world."