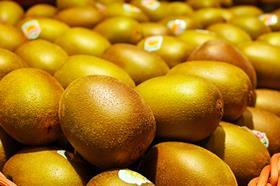 A new report released by Rabobank has said that the outlook for kiwifruit demand will 'remain healthy', with expanding consumption in Asia, the EU and the US.
Global kiwifruit exports have been steady over the last three years and show changes in supply dynamics, the report outlined.
According to the latest fresh produce report, global kiwifruit production reached 4m tonnes in 2021. Although production has remained somewhat stable, changes are happening, as seen in different trends in many producing countries.

"Growers and exporters are expected to face significant challenges on the production side, in terms of higher costs, including but not limited to fertiliser, energy, harvest, packaging, and freight," explained Gonzalo Salinas, senior analyst – fresh produce at Rabobank and the author of the report.
New Zealand leads in exports
Despite logistical challenges in 2021, kiwifruit exports increased 3 per cent in 2021. New Zealand remains the leader in exports, at 647,000 tonnes, with 'no signs of a decrease in the near term'.
Italy has shown a marked downward trend in its exports, Rabobank outlined, while Iran, Greece, and Chile have shown stable export volumes over the past three years.
In terms of imports, 80 per cent of globally traded kiwifruit in 2021 was imported by Europe and Asia.
The most attractive market is currently Asia, with a higher share of golden kiwifruit imports and even red pulp varieties that could gain importance in the next seasons, especially in China, Japan and South Korea.

Gold kiwifruit a rising trend
In New Zealand, the world's largest exporter, gold (yellow) kiwifruit exports have surpassed Hayward (green) exports in volume since 2020.
According to Salinas, this trend will continue in the medium term, as the planted area of Hayward kiwifruit is declining, while increasing for yellow varieties.
Production and exports are expected to continue rising as total planted area and yields continue to increase.

About 88 per cent of New Zealand kiwifruit exports went to Europe and Asia in 2021. While Asia mostly imports golden kiwifruit (60 per cent), Europe primarily imports the green variety (50 per cent).
"Nevertheless, New Zealand golden kiwifruit exports to Europe show a higher compound annual growth rate (CAGR) than those to Asia over the past five years (26 per cent versus 13 per cent). This increase in imports of golden kiwifruit by Europe is expected to continue in the short and medium term," said Salinas.
In addition, Zespri's new RubyRed variety will enter the market in the 2022 season. This new variety will find a niche in the Asian markets due to its red pulp and berry taste, he noted.
European markets are changing
While kiwifruit has shown steady demand in Europe in the last few years, the 2022 season would be different, the report suggested.
A shorter to average European season is expected, which could support greater kiwifruit imports from the Southern Hemisphere.
Also, as a result of the current ban on exports to Russia, due to the Russia-Ukraine war, part of the initial supply intended for Russia – coming from several supplying countries – is expected to be diverted to other European countries.
The current war between Russia and Ukraine is not expected to significantly affect Southern Hemisphere kiwifruit exports.
However, indirect effects could include an extension of the Northern Hemisphere season, increased fuel and input prices, and exacerbated logistic bottlenecks, Rabobank added.