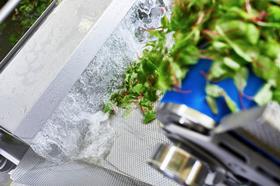 Kronen, the producer and supplier of stand-alone and special machines as well as of high-tech processing lines for the Fresh-cut industry, is to host a virtual event for its customers on 4-7 October.
The Germany-based company said that the event will allow it customers to choose from 11 video workshops and a wide range of live machine demonstrations.
According to the group, the programme is divided into three main areas.These include video workshops followed by a question and answer session, public live machine demonstrations and individual live machine demonstrations tailored to the participant's specific products and needs in a one-to-one dialogue.
New products as well as popular classic models from the Kronen portfolio will be presented.
"Having not been able to offer an event for quite some time, we maximised our efforts preparing online Customer Days for October,' said Stephan Zillgith, management spokesman at Kronen. 'Our aim is to offer an exciting, interactive programme – something for everyone.
"The online format opens up even more new possibilities: We can show many more machines than at any trade fair,' she added. 'And with video workshops we can provide a new kind of offer exhibiting a vast amount of knowledge and in-depth detail for example in exact operation instruction, many benefits, special features and important tips on application, cleaning and maintenance."