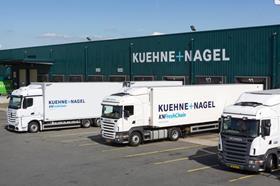 Kuehne and Nagel has announced it delivered an 'outstanding financial performance' in the first half of the year, with all business units able to 'significantly exceed' prior year earnings.
According to the logistics group, the continued recovery of the global economy led to strong demand for logistics services in the first half of 2021.
At CHF 13.3bn, the group's net turnover for the first six months was 35 per cent higher than in the same period of last year, while EBIT more than doubled to CHF1bn.
'This year, we are experiencing uniquely high consumer demand combined with supply chain uncertainty,' said Dr Detlef Trefzger, CEO of Kuehne and Nagel. 'Thanks to the tireless efforts of our employees, a successfully implemented strategy and our agile logistics solutions, we have once again met the increased service requirements of our customers in a challenging market environment.
'We expect demand to remain strong and look forward with confidence to continuing the positive development,' he added.