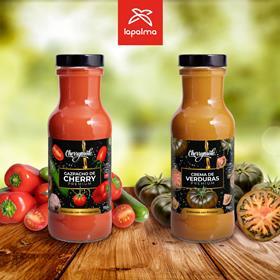 Spain's La Palma cooperative has launched a cherry tomato gazpacho and cream of vegetables under its Cherrymole premium prepared product range.
The drinks come in a 750ml fully recyclable glass bottle and are made from 100 per cent natural ingredients.
The company described the cherry tomato gazpacho as "another way to enjoy the essence of delicious cherry tomatoes, snack cucumber and mini peppers in this natural preparation, low in calories, nutritious and rich in fibre and antioxidants".
The vegetable cream is made from the company's Primora brown ribbed tomato and provides "the perfect balance between sweetness and acidity with a delicious texture and an irresistible flavour."
The drinks are are made from pasteurised premium vegetables and have a shelf-life of up to two years.
"With these innovations, La Palma advances in the exciting world of vegetables and healthy eating, together with its 700 farmers, 1,300 workers and more than 3,000 families linked to the company and a passion for quality, society and the environment," the company said.