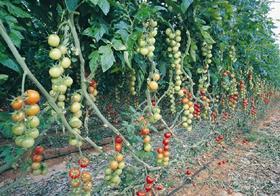 As Israel struggles to form a coalition government and its citizens conclude online Passover celebrations in isolation, Covid-19's impact on the Israeli economy and agricultural sector continues.
The country's tourist industry and catering trade have been temporarily devastated. According to forecasts from the Ministry of Finance, Israel's economy could lose sums ranging from NIS3.6bn (US$1bn) to NIS14bn (US$4bn).
So far, horticulture – in terms of supplies of fresh fruit and vegetables to the local market – appears little affected, with the two main items in short supply being eggs and toilet rolls rather than fresh produce.
Due to constant security threats, Israel's 'Emergency Protocol' is always ready to be activated. Accordingly, various steps were immediately taken, with many agricultural enterprises being labelled "essential services", allowing them to continue functioning fully.
EGO, one of the largest potato grading and marketing enterprises, is working at 110 per cent capacity, for instance, performing two shifts of eight hours each instead of a single 12-hour shift in order to reduce congestion on the factory floor, with 50 per cent of the produce sold locally and 50 per cent exported.
However, as in much of Europe, the main issue for the sector is labour. The majority of workers on Israeli farms come from Thailand, with as many as 24,000 workers employed under bilateral agreements between the Israeli and Thai governments. However, many Thai workers scheduled to work in Israel have been unable to travel this year.
"Unfortunately, it looks like there will not be a quick solution to the issue of the coronavirus," said one Israeli official, "and the agriculture sector in Israel is waiting for workers – they are in trouble."
In the meantime, various volunteer groups – youth movements, high school students and unemployed people – have been organising to help on farms close to their places of residence.
An initiative of the Ministry of Agriculture, together with the Plants Production and Marketing Board, has seen the creation of a platform for online purchases of fresh produce direct from the grower, both for B2B and B2C sales, including home deliveries.
At the same time, however, many growers are becoming frustrated at the continuing importation of fresh items that are grown locally and in peak season. As fields of tomatoes, lettuce and herbs are abandoned in Israel, tomatoes are being imported from Turkey and lettuce from various sources. Consumers are now being urged to examine these sources in-store and to choose local produce.
The country's young plant nurseries are already experiencing a slowdown, including a sharp drop in orders coming from growers that start producing from the end of June for late summer/early autumn production.