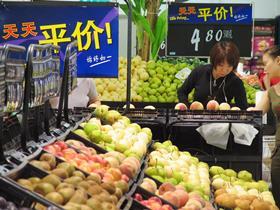 Latin American fruit exporters caught up in the coronavirus outbreak in China are keeping a close eye on how the situation develops, amid fears of mounting losses unless the crisis is resolved swiftly.
China has become an increasingly important market for countries like Chile and Peru in recent years, as demand for products like cherries, avocados, blueberries and grapes has surged.
Speaking to Peruvian daily El Comercio, Alicia Bárcena, executive director of the United Nations Economic Commission for Latin America and the Caribbean, said many of the region's exporters were being affected by the outbreak.
"China is reducing its imports of perishable products such as soybean oil and fruits that are precisely the types of products that South American countries export to China," she said.
This week, ProChile director Jorge O'Ryan called for caution amid mounting speculation about the impact of the outbreak on Chilean fruit exports to China.
Beijing's decision to extend the Chinese New Year holiday last week left shipments of Chilean cherries, nectarines and blueberries stranded as ports remained closed, while the confinement of millions of people caused demand to slump.
Responding to comments from Agriculture Minister Antonio Walker that exports would start normalising this week, O'Ryan said it would take time before an appropriate assessment could be made of the situation.
"In the next 15 days we will be able to see how consumption evolves, and whether demand normalises," he said, noting that everything was being done to promote online sales and redirect exports to other markets.
Last week, Walker reported that there were 1,400 containers of Chilean products in different Chinese ports waiting for the end of the Chinese New Year holiday, which was extended as a result of the coronavirus epidemic.
O'Ryan noted that the bulk of Chile's cherry crop had been shipped before the festivities. "Eighty per cent of cherries and many other fruits were already delivered before the Chinese New Year. The other 20 per cent is what we are talking about… which is insured. We are redirecting [the fruit] and I believe that at the end of February we will have a slightly more concrete picture," he said.
O'Ryan added that logistics companies had expressed concerns that the crisis could lead to a backlog of containers being discharged and returned.
The situation is not as acute for Peru, as the table grape campaign – the number one fruit exported to China – has just concluded and most of the production was sold prior to Chinese New Year.
"We were fortunate that all the northern production managed to be delivered and distributed. However, there is still a remnant of production from the south and we are watching to see what happens, because we have part of that merchandise in Chinese ports, " Leonel Arce, general manager of the Agroindustrial Beta Complex told Fresh News.
Luis Vila of the Chamber of Commerce of Ica, said local producers were concerned that future shipments of citrus, asparagus, avocados, pomegranates and quinoa could be affected.
Peru exported US$262m of fresh produce to China in 2019, including US$124m of grapes, US$87m of blueberries and US$34m of avocados.