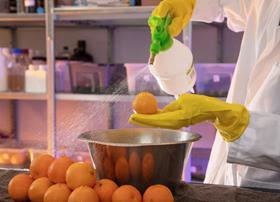 Dutch company Liquidseal has unveiled a new coating technology that is has said keeps fruit and vegetables fresh for up to twice as long, helping to avoid food waste and reduce packaging waste.
The coating utilises high-quality polyvinyl alcohols (PVOH) from Kuraray, one of the world's leading speciality chemicals producers, which has its European headquarters in Germany.
Using Kuraray's portfolio of high-quality PVOH polymers, Liquidseal is able to optimise its formulations carefully for established processes and adhesion to different types of peel.
In addition, Kuraray is supporting the coating experts in registration processes and helping Liquidseal gain access to new areas of application.
Edible coating
Liquidseal said that is was currently working on a new edible coating for plums, apples and peaches based on a new PVOH grade: Kuraray Poval 5-88 FA.
"When fruit and vegetables come into contact with oxygen, oxidation starts and micro-organisms are able to breed faster. As a result, the fruit or vegetable goes off,' explained Glenn Groenewegen, R&D manager at Liquidseal. 'To slow this process, so far agricultural producers have used coatings based on wax or sugar, or the produce is wrapped in additional plastic packaging. That is often inefficient and bad for the environment.
"Our new solution can more than double the shelf-life of avocados, for example,' Groenewegen noted. 'At the same time, our coatings are far better for people and the environment."
Liquidseal coatings are water-based and do not contain organic solvents. Thanks to Kuraray's Poval PVOH materials, they are also fully biodegradable, the group outlined.
In the development of its coating technologies, Liquidseal has worked closely with Kuraray's PVOH experts from the beginning.
"Two of our founders, Victor Monster and Eugene van Berg, developed our first coating solution in 2005. That was a coating for bulbs. Our home base in Leiden is known for its lilies and tulips," Groenewegen continued. "It was clear early on that PVOH offered ideal properties for this application. Kuraray is the biggest producer of this polymer in Europe – with the Kuraray Poval brand – and that's how our collaboration started."
The process
A very thin layer of Liquidseal coating is applied directly to the peel of fruits such as oranges, lemons and mangoes.
"Various methods of applying protective coatings are established in agriculture,' Groenewegen explained. 'For example, waxing machines are used for citrus fruits, while dipping and spraying processes are more common for other types of fruit.
"Kuraray's experts used their experience to help us adjust our formulations accurately for the various processes. Agricultural producers can simply apply our coatings with their existing machinery, without major investment or adjustments."
Two other major benefits for Liquidseal, the group outlined, are the compatibility of PVOH materials with organic substances and their excellent barrier properties, while it is also benefiting from Kuraray's expertise on regulatory issues.