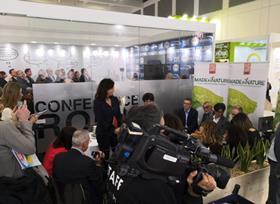 The European campaign to promote organic farming, funded by the EU and CSO Italy, as well as the companies involved in the project, kicked off the year with an event in Paris dedicated to French journalists, food bloggers and influencers.
"Made in Nature – Discover the principles of European organic farming", a three-year project initiated in February 2019 and funded to the tune of €1.5m, involves the leading companies in the Italian organics sector, namely Brio, Canova, Conserve Italia, Lagnasco Group, RK Growers and VeryBio.
Selected guests were able to sample the best fresh and packaged organic products made in Italy, thanks to a cooking demonstration from chef Jean-Yves Vuong, winner of the first MasterChef France, who designed a special menu for the occasion.
The project's goals were laid out over the course of the event, while the uniqueness and potential of Italian organic farming were highlighted.
Along with Italy and Germany, France is one of the initiative's target countries, having recorded a significant increase in organic farming area in recent years (up by 17 per cent, from 1.7m hectares to over 2m).
The French organic market is the second largest in Europe and is steadily growing, worth around €9.7m (up 15 per cent from 2017).
Some of the most important and popular influencers and food bloggers in France shared the evening's events live on their social media profiles, allowing thousands to follow Vuong's masterclass, while learning about the project and the potential of Italian organic products.
"It was a success that fully reflects the figures for the first year of 'Made in Nature', which in the future will continue to focus on a dual offline and online communication strategy in order to target a larger and wider audience," the campaign commented in a press release.
Given the success of the occasion, similar events are set to be organised in other cities in Made in Nature's target countries. An event dedicated to journalists from the trade press will take place on 6 February during the Fruit Logistica exhibition.