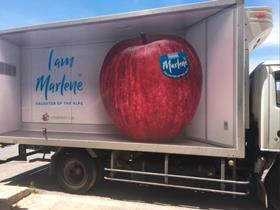 South Tyrolean apple brand Marlene is preparing to transport the largest apple ever seen in Europe… or at least that's the trick of the eye achieved by an ingenious new design adorning a fruit delivery truck in Malta.
"From now on our best clients also get Marlene in king-size format," joked Kurt Ratschiller, marketing manager at Italian apple specialist Vog, which owns the brand.
Posting an image of the new vehicle graphic on the business networking website LinkedIn, Ratschiller paid tribute to Starfruit, one of Vog's import partners in Malta, for putting the eye-catching 3D design– known in the art world as a trompe-l'œil –on the lorry.
"Thanks to Starfruit owner John Agius for this great [out-of-home advertising] format," he added.
This season represents the first for Vog's recently updated Marlene brand identity, which aims to reposition the apple as the 'daughter of the Alps' as part of a major campaign called I Am Marlene.
As reported in Eurofruit's recent Fresh Focus Italy supplement, the redesign has apparently been well received.
"The restyling and the new brand strategy have been met very positively and our customers have been very happy with them," commented Gerhard Dichgans, Vog's managing director.
having rolled out new visuals and promotional materials last November, the marketer embarked on a series of advertising activities in March, including television and other media commercials in Italy and Spain, as well as promotions in Belgium, the Netherlands and Norway.
The brand's multi-format campaign in the Benelux, for example, has incorporated social media networks as well as initiatives aimed at trade professionals.