The Vog brand is enhancing its Aroma Wheel in its bid to become a cultural ambassador for apples
Italian apple consortium Vog is inviting consumers to join it on a culinary journey as it kicks off the 2023/24 campaign for Marlene apples with the Royal Gala variety.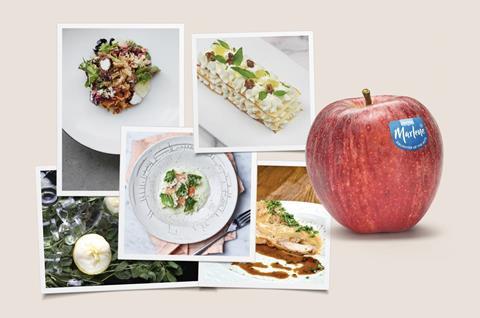 Once again, the focus will be on the company's Aroma Wheel, launched this spring, and now joined by the Pairing Wheel to offer a complete culinary journey.
"We don't just distribute apples but take responsibility for the entire category and act as an ambassador for the art of apple enjoyment around the world," said marketing manager Hannes Tauber.
"The basic positioning of Marlene is still the story of its origin and its world, with the Daughter of the Alps slogan and the four seasons concept. This year's focus, together with the Aroma Wheel, invites consumers to take action, urging them to discover the variety and complexity of apples and create new value around the product."
The Aroma Wheel, which displays the fragrances, consistencies and flavours of the five Marlene varieties, is now joined by the Pairing Wheel.
On the Marlene website, consumers can choose a variety and one of the four basic tastes – sweet, sour, bitter and salty – to discover the ingredients with which the apple can be combined and the recipes by top chef Norbert Niederkofler and four young international chefs chosen by him to interpret the Daughter of the Alps in the various seasons.
The web page will be accessible from promotional materials and digital banners, via links or QR codes.
To support the concept, Vog is planning an extensive media campaign featuring TV, out-of-home, digital, social media and consumer press actions across its main markets. In-store initiatives featuring sampling and the Aroma Wheel will also be an important part of the campaign.
During the second part of the season consumers will have the chance to win a gala dinner in Südtirol, highlighting the theme of flavours and the local area.
"With this year's campaign, we are aiming to enhance each Marlene apple variety," Tauber said. "Based on the approach taken for other products, such as wine and cheese, we will give consumers simple and direct tools to build an apple culture and enter a world of different tastes, aromas and textures.
"The Daughter of the Alps positioning is still our core story, while the Aroma Wheel allows us to expand the narrative to make a product as apparently simple as an apple appealing. The goal is to increase consumption of the entire category, so we are prepared to put a lot of effort into new tasting and presentation formulas at the point of sale."