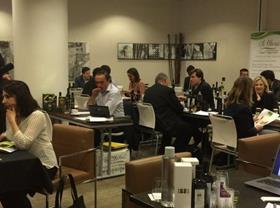 Fruit and vegetable producers from Spain, Egypt, Italy and Guatemala took part in a commercial mission in London this week.
The two-day event, organised by TradexFirm International, attracted dozens of importers and distributors from across the UK.
Among the companies taking part was Alicante-based Mr Lemon which has developed fresh-cut lemon slices.
"With its thriving bar and restaurant scene the UK market is the perfect fit for this product," said Juan Pedro Nieto. "The slices come in tubs of 120 pieces, making them ideal for foodservice, but we are also open to the idea of introducing a smaller format for the retail market."
Egyptian exporters Gouda and Helwan Export also attended the trade event, with an eye to boosting exports of items including citrus, grapes, strawberries and a variety of vegetables.
Helwan's Hussein Hammam, based in the company's three-year-old London office, stressed the importance of Egypt's export window for the UK.
"Some produce comes from Egypt at just the right time, especially grapes and strawberries," he said. "Egyptian grapes are on their own once India and Chile finish, while Egyptian strawberries are alone between the Belgian and Moroccan seasons. This helps us to compete with Spain."
The mission also welcomed Italian cooperative Produttori Castiglione from Puglia, made up of 25 producers of artichokes, celery, cabbage, asparagus, grapes, fennel, chard, peppers and tomatoes, making their first attempt to penetrate the UK market.
Guatemala's Agrícola Tierra Nueva, meanwhile, is looking to break into the UK as part of a wider market diversification strategy to reduce its reliance on the North American market. The company grows and exports sugar snap and snow peas and fine beans year-round and recently obtained GlobalGAP, HACCP and other certifications in preparation for its European launch.
El Reclot, which produces the DO Viñalopó bagged grapes, is looking for new markets for its growing seedless offer, while Seville-based Export Orange is also seeking new opportunities in the UK citrus market.