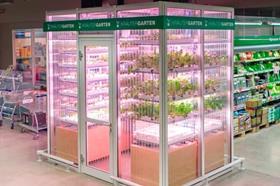 Germany's Metro Cash & Carry has launched a pilot project growing on-site herbs and vegetables at one of its wholesale stores in Berlin.
A high-tech kitchen garden developed by start-up company Infarm has been installed at the shop in the district of Friedrichshain, in which products such as basil are grown hydroponically in a space-saving vertical greenhouse.
The retailer said the scheme enables customers to receive the freshest possible produce grown without the use of pesticides, while reducing the company's carbon footprint as it avoids the need for transportation.
"The InStore Farming concept shows how we are using innovations to shape tomorrow's retail and wholesale. We are increasing the benefit for our customers and at the same time conserving resources," said Axel Hluchy, Metro Cash & Carry Germany's managing director.
The vertical greenhouse covers 5m2 and produces a range of herbs and vegetables, which the builders claim have a more intensive flavour as the high-tech facility supplies each individual plant with the optimum amount of nutrients and light. The products are packaged during the growth phase, thereby guaranteeing freshness.
Frank Niemann, store manager at the Berlin supermarket, claimed the pilot has already proved a success.
"Our gastronomy customers in particular are delighted," he said. "Harvesting directly in the kitchen enables a unique, full flavour."
The project is being overseen by Metro's business innovation division, which for more than a year has been promoting start-up companies providing high-tech services in retail, wholesale, gastronomy and the hotel industry that aim to give customers added value through innovative and digital services.
Infarm is owned by Israeli brother Guy and Erez Galonska and Osnat Michaeli, who went to Germany from Israel in 2012 to develop their urban micro-garden business.
"Quality and choice of fresh products are deciding factors for our customers. The InStore Farming concept gives us an absolutely unique selling point across Germany," commented Pierre-Yves Delforge, who is responsible for procurement in the fruit and vegetable segment at Metro Cash & Carry.