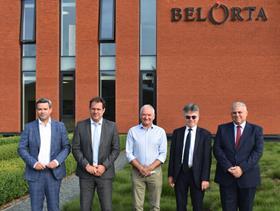 Following the meeting of the European Agriculture Council, Belgian minister of agriculture David Clarinval made a visit to fruit and vegetables cooperative BelOrta along with Maltese minister of agriculture Anton Refalo.
The two ministers spoke to a BelOrta delegation about sustainable cultivation and innovative packaging solutions, including the cooperative's new Tray2Tray strawberry punnet, which aims to contribute to a circular economy.
"Thanks to this 100 per cent circular concept, packaging is no longer part of the problem but becomes part of the solution," the company stated.
The ministers also discussed the social role of cooperatives and the way in which the producers have made it through the Covid-19 crisis together.
"We are proud of the many beautiful and healthy fresh fruits and vegetables produced by our local growers," said Clarinval. "Thanks to the many efforts in researching varieties, cultivation techniques and taste, but also in packaging and logistics, we can count ourselves among the world leaders in this segment.
"Thanks to cooperatives such as BelOrta, the supply of many individual growers is bundled so that they become attractive parties for the market. Moreover, solutions are sought for all qualities, so that any residual flows are also valued in the market. This is important in the context of avoiding food waste, but also to allow growers to develop further in a future-oriented way."