Company's patented nanobubble technology unlocks the power of water to help farmers increase yields and manage water more effectively
Moleaer has opened a new production facility in Almería to roll out its proprietary nanobubble solutions to the Spanish and European markets. The innovative technology uses a generator to enrich irrigation water with trillions of oxygen nanobubbles which can help increase productivity and improve plant health.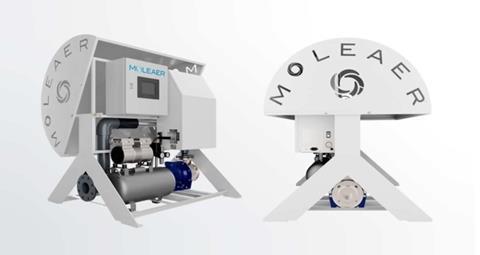 Moleaer has also signed a deal with Spanish organic producer, BioSabor ( also known as BS Nature) to distribute its microscopic bubble generation machines to farmers in the region.
Nanobubbles are tiny bubbles, invisible to the naked eye and 2,500 times smaller than a single grain of table salt, that can remain suspended in water for long periods, enabling highly efficient oxygen transfer and supersaturation of dissolved gas in liquids.
According to Moleaer, their use in irrigation water results in enhanced plant health and increased yields, even in the face of extreme high temperatures, thereby helping growers improve water utilisation and reduce costs.
Nanobubbles also treat and eliminate pathogens and contaminants, eliminate biofilm in the dripline emitters, prevent root disease, reduce algae, and optimise root absorption of water and nutrients.
"Moleaer and BS Nature share a vision rooted in addressing the pressing challenges posed by climate change, including drought and rising temperatures, which significantly impact crop yields. Earlier this year, water levels in the reservoirs in Spain's most important food-exporting region, Andalusia, were reported to be down 70 per cent, worsening conditions for all growers," Moleaer said.
"Our ground-breaking technology offers a sustainable and cost-effective solution to these challenges, bolstering irrigation efficiency while reducing resource inputs to help farmers address growing food demand in Europe."
To date, Moleaer has deployed more than 2,500 nanobubble generator installations in more than 55 countries worldwide. Its latest nanobubble generator, Indalo, is designed to withstand the unique climatic conditions of southern Spain. It uses patented gas-to-liquid injection technology to generate trillions of nanobubbles that supersaturate water with oxygen in a manner that the company claims is more efficient and cost-effective than any other method available.
"The efficacy of this technology has been validated in four independent studies sponsored by BS Nature, all of which documented improvements in water quality that consistently translated into higher yields and superior fruit quality," the company said.
"These outcomes were achieved without increased resource inputs or chemical applications, such as fertilisers and hydrogen peroxide. Multiple research institutions and universities across the US, Europe, and Latin America have corroborated these transformative results."
According to Moleaer, three separate studies on cucumbers carried out with Fundación Cajamar, Tecnova and the University of Almería showed yield increases of 16.2 per cent, 10.5 per cent and 13 per cent respectively. Another, carried out with agri-food certification provider Agrocolor, showed a 9.7 per cent increase in total tomato production.
Nick Dyner, CEO of Moleaer, commented: "Almería holds a vital position in Spain's and Europe's food production landscape. Through our collaboration with BioSabor and the establishment of our own assembly and service facility in Spain, Moleaer is poised to expand access to nanobubble technology directly to our customers. We are excited about the rapid nanobubble technology adoption in Spain and its surrounding regions".
BioSabor's president, Francisco Belmonte, said the inauguration of the new facility in Andalusia marks a significant milestone in the deepening collaboration between the two companies. "Together, we are committed to providing profitable and efficient solutions to the challenges faced by local farmers, aligning with the demands of the European market," he commented.
"At BS Nature, we remain committed in our dedication to embracing innovative technologies, always striving for continuous improvement in all aspects of our operations."