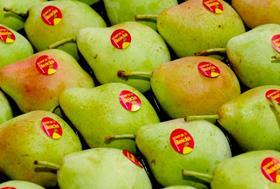 The 2021 Catalan apple harvest is expected to weigh in at 273,000 tonnes, an increase of 16 per cent on last year, according to the latest estimates released by Afrucat. Pear production is set to decrease by 14 per cent to 118,000 tonnes.
Together, Afrucat's members account for 65 per cent of Spanish apple production and 50 per cent of the country's pear output.
"While apple volumes are up on the 235,000 tonnes harvested in 2020, they are still 13 per cent lower than what we'd usually expect, and well below the 315,000 tonnes harvested in 2019," said Joan Serentill, president of the Apple and Pear Committee.
Afrucat's general director, Manel Simón, said Catalonia's apple acreage remained relatively stable, with planted area growing by around 400ha a year, mostly made up of new varieties.
"This conversion is mainly to new varieties of Gala and Fuji apples that add more colour to our altitude and also new varieties of Golden that provide more hardness and crispiness," he said.
With regard to pears, the 118,000-tonne forecast is around 17 per cent below the region's productive potential.
"The decline in pear production this year, caused by the frosts of last March that have wreaked havoc throughout Europe, will mean a drop in Conference pear production of up to 30 per cent for some northern countries and, for others from central Europe, a drop of up to 50 per cent," Simón said.
Against this background, Afrucat is predicted a fluid European pear market with improved prices.