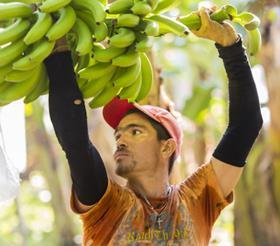 Mexican organic banana suppliers have become the latest sector to warn of the skyrocketing production challenges they face.
Threeof the country's leading growers and distributors,Coliman Bananas, Organics Unlimited and Tropical Organic Growers, issued a joint statement this week on the unsustainability of rising production costs and falling banana prices.
"Over the past 18 months, society has endured unprecedented health, social and economic turmoil simultaneously on a global scale. The Mexican organic banana industry, through tremendous effort, has successfully produced and delivered the highest quality fruit possible," the statement says.
"In the last 12 months, our industry has delivered over 7m boxes of organic bananas to the US market. Mexico recently became the second largest source of organic bananas to America, second only to Ecuador. At this rate of growth, Mexico may well become the largest source of organic bananas to the US market in the coming years.
"During these challenging times for all, our industry has undergone intense cost pressure and has absorbed it to ensure that consumers can continue buying affordable organic bananas. However, the current commodity pricing surge has made this effort unbearable any longer.
"Packing material prices have risen nearly 20 per cent and plastic bags have gone up 15 per cent. Labour costs have also increased nearly double-digits as we have supported our workforce throughout the pandemic. As most experts indicate, there is no end in sight to these cost pressures.
"The world's shipping container shortage has not only caused a supply chain nightmare, but also put additional pressure on logistics costs that have skyrocketed over 15 per cent from pre-pandemic rates.
"Additionally, higher costs have come from ensuring a safe, Covid-free environment at our operations to give our valued workforce the adequate conditions necessary to continue working, despite much of the world being locked down at home to stay safe.
"Furthermore, we have suffered several major climate disasters in the past few months as two hurricanes, Dolores and Nora, have impacted our production areas on the Pacific shore and generated considerable loss of fruit and additional unexpected costs.
"As an industry, we are very proud of what we have achieved during this exceptional time. We remain steadfastly committed to harvesting organic bananas week in and week out, to ensure that supermarket shelves remain well-stocked.
"However, we cannot support this great pressure any longer. This is not a recent issue as we have been struggling with reduced margins for several years. However, the current situation is impossible.
"Organic banana prices have gone down systematically in the past 10 years, and although we want to offer competitive prices to increase the consumer base and offer affordable fruit, we can no longer sustain what in many cases has become a negative margin situation. Organic bananas are not only the cheapest organic fruit offered, but they are also cheaper than any other conventional fruit sold in stores.
"Growing organic is a completely different practice from conventional with a much higher cost structure due to the need to use certified organic inputs, non-chemical solutions and sustainable farming practices.
"Nevertheless, we see in US retail stores as low as a US$0.10 per pound price difference between the conventional and organic presentations. Input prices rose year over year for the past decade while organic banana prices dropped consistently during the same period. Now is the time for a price adjustment for organic bananas to endure and promote the benefits of sustainable, organic agriculture."