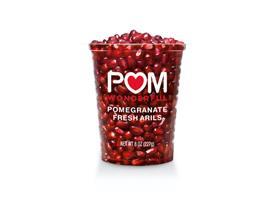 Pom Wonderful has kicked off the 2021 California pomegranate season with its largest digital marketing campaign ever to promote new branding for its POM Wonderful Pomegranate Fresh Arils.
Previously known as Poms Poms, the new branding and packaging coupled with the digital campaign helps to reinforce the connection for consumers that Pom Wonderful Pomegranate Fresh Arils are sourced straight from Pom Wonderful pomegranates, making it easy to enjoy pomegranate arils as a snack or to elevate a variety of dishes, especially during the holidays.
The digital campaign, part of a multi-million-dollar investment in new digital marketing. The efforts consist of two brand-new epicurean and antioxidant campaigns.
The 'Insta-Antioxidants' digital campaign highlights the ease with which consumers can enjoy Pom Wonderful pomegranates which are harvested at peak freshness and quickly transformed into a Pom Pomegranate Arils cup.
The Pom Wonderful Pomegranate Fresh Arils epicurean campaign will focus on recipes that include strong pomegranate flavours, inspiring consumers to use pomegranate arils in everything from appetisers to desserts and cocktails.
New recipes will be posted on the Pom Wonderful social media accounts, as well as the Pom Wonderful website.
The campaign was created by The Wonderful Company's in-house creative team, Wonderful Agency, and includes digital advertisements on Facebook, Instagram, Pinterest and Snapchat, as well as shopper marketing, consumer public relations and new point-of-sale materials.
'As the number one arils brand sold nationwide, we are excited to see Pom drive category growth and raise consumer awareness for snacking and epicurean uses of fresh pomegranates,' saidAdam Cooper, The Wonderful Company's senior vice president of marketing.
'With the 'Insta-Antioxidant' campaign, we hope to showcase how quickly and easily consumers can enjoy pomegranate arils, while also benefiting from the antioxidant power of Pom.'