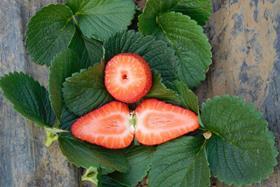 Italian soft fruit breeder CIV says its new early low-chill strawberry variety, CIVL519, is showing promising results in recent trials in Southern Italy and Spain.
"CIVL519 ripens early compared to other varieties currently on the market, is more productive, has high quality fruits (consistent size, high brix level, and excellent aromatic elements), and is very consistent," said CIV breeder Michelangelo Leis.
"The fruits are uniformly bright red, very attractive, with a compact interior of homogeneous red colour. The plants bear simultaneously ripe fruits, green fruits and flowers, as a hallmark of great production continuity.'
CIVL519 is the earliest selection among the company's new varieties. The company's business development manager Marco Bertolazzi added that the variety exhibited better quality and quantity productions than the earliest varieties currently on the market, obtaining the peak when the prices are still high, meaning before the April production season.
"This selection performs very well even from rooted stems, allowing to harvest high quality fruits even in December,' he said.