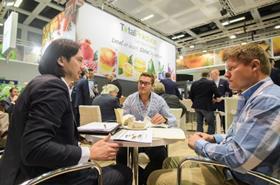 Irish multinational fresh produce company Total Produce has delivered what it described as "very positive" preliminary results for 2017, reporting a 13.9 per cent increase in combined revenue to €4.29bn as its expansion strategy continues to make good progress – most notably with the recent moves in North America to establish a 45 per cent shareholding in Dole Food Company for US$300m, majority control of Oppy and a new strategic partnership with BayWa-owned T&G Global.
Describing the proposed Dole deal as "a very significant step in the history of Total Produce", chairman Carl McCann observed that a series of acquisitions made in North America over the past year had contributed to the overall increase, although that result was partly offset by currency movements affecting the conversion of certain sales back into euros.
Investments during the 12-month period included: a further 30 per cent stake in the Oppenheimer Group (known as Oppy), making the company a subsidiary of Total Produce, which now owns 65 per cent; Los Angeles-based subsidiary Progressive Produce's purchase of trade and business assets belonging to Keystone Fruit Marketing; securing a 50 per cent interest in Californian company The Fresh Connection; and other acquisitions – referred to as "bolt-on investments" in Europe.
Total Produce's adjusted EBITA increased by 13.3 per cent to €83.5m, while like-for-like sales also grew.
"Trading conditions overall for the twelve months were satisfactory," McCann reported. "On a like-for-like basis, excluding acquisitions, divestments and currency translation, revenue was about 4 per cent higher due to higher average pricing with volumes unchanged on prior year."
Markets in detail
Last winter's unusually bad weather in Europe did lead to temporary shortages of certain salad and vegetable products, McCann admitted, but he noted that the diversified nature of the group's business meant this "did not have a material impact".
Trading conditions in North America were "relatively less favourable" in some parts of the business and, while overall volumes were up on a like-for-like basis, results was held back by lower pricing due to surplus product in the market and weather conditions that negatively affected quality.
In the Eurozone markets of France, Ireland, Italy, the Netherlands and Spain, revenue fell by 0.9 per cent to €1.74bn, with a 4 per cent increase in adjusted EBITA to €27m.
"Overall trading conditions were satisfactory despite some volume shortages as highlighted above in the first half of the year and industry-wide issues with South African citrus," McCann observed. "This was offset by improved trading in other produce categories."
Outside the Eurozone, in the Czech Republic, Poland, Scandinavia and the UK, sales were 1.4 per cent higher at €1.54bn with adjusted EBITA increasing by 7.6 per cent to €41.7m, buoyed by the aforementioned "bolt-on" acquisitions as well as higher average prices, but pegged back by less advantageous rates of exchange in the UK and Sweden.
The group's international division – North America, South America and India – saw its revenue increase by 95 per cent to €1.06bn with adjusted EBITA increasing 64.5 per cent to €14.8m.
"While on a like-for-like basis overall volumes have increased from prior year, the overall result was held back by lower pricing and unusual weather conditions which affected product quality particularly in some parts of our tomatoes, berries and potatoes supply," McCann stated. "Oppy also incurred start-up losses in a new soft fruit growing partnership."