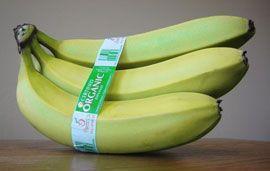 US organic fruit importer Organics Unlimited has updated its packaging options to help consumers identify organic bananas from conventionally grown fruit.
By wrapping a tape around each bunch of bananas (as the fruit is packed for shipping), the company claims it is adding visibility to the value chain.
The tape features a GS1 DataBar barcode, which carries information such as the source of the produce and pricing in a smaller space.
Retailers can weigh and scan the fruit at the register, and for retailers who can use Databar technology it will eliminate the need for individually stickered bananas.
The new packaging also encourages the sale of bunches containing four to six bananas, rather than picking individual bananas from displays.
All bananas from Organics Unlimited continue to be available with Price-Look Up (PLU) stickers.
In addition to the scannable tape, Organics Unlimited is offering two box sizes: 28lbs and 40lbs, providing a benefit to small footprint markets.
Organics Unlimited imports and distributes organic tropical fruit from Mexico and across South America.
At the end of May, the company became the first provider to the US market of organic Fairtrade-certified bananas from Mexico.