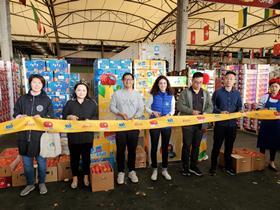 French exporter Blue Whale has shared its first Novablue apples of the season in China as it launched a new promotional campaign.
Blue Whale, along with its Chinese importer ZeLun, chose the Shanghai wholesale market to introduce consumers to the proprietary Gala variety as it celebratedthe start of the 2019/20 season.
Marguerite Jeanson, Asia trade marketing executive of Blue Whale, said Novablue will soon become the company's main variety.
"Novablue is our new growing variety from France, which will gradually replace the striped Gala. It has a better colour and is tastier, juicier and is also exclusive to Blue Whale", Jeanson said.
Kerwin Weng, the chief executive's special assistant of ZeLun, said the colour of Novablue stood out to consumers.
"Royal Gala and Novablue are the main varieties in the Shanghai market. We love the sweet taste of Royal Gala and appreciate the premium colour of Novablue," explained Weng.
Both varieties will be available in retail chains such as RT MART, Metro and Walmart, where tasting sessions will be organised to increase awareness.
Additionally, the Blue Whale channel on WeChat will display detailed information on the different varieties offered for the export market by Blue Whale, news about current promotions as well as some Novablue recipes.
These promotions will be followed by campaigns for the Candine variety, which is also exclusive to Blue Whale and was promoted to a professional audience towards the end of last year.
Jeanson said this campaign will be a continuation of Blue Whale's efforts to develop the Chinese market.
"Last season we exported to China 220 containers which doubled volumes from the year before. This season our goal is to once again double our volume," Jeanson said.
"More specifically, for Novablue we're expecting to increase our export volume by at least 20 per cent."