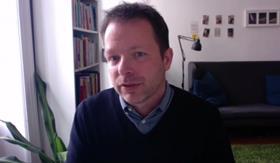 The future of fresh food production will be a combination of open field, glasshouse and vertical farming, a peaceful cooexistence that will together help supply the increasing demand for fresh produce.
That was the verdict of Franz Drack, CMO of &ever, who spoke about the growth of vertical farming and the future of the business at World of Fresh Ideas during a session entitled 'New Technologies'.
While vertical farming is enjoying a boom, Drack dispelled the myth that it was there to effectively replace traditional farming methods, rather hinting at a more collaborative approach to production in the future.
'People often ask me if we are out to get all the traditional farmers out of business. That's absolutely not the case,' he explained. 'We have open field, we have classical glasshouse production, and now we have vertical farming. I think the future will be a combination of these three concepts.
'There are some regions of the world where it makes more sense to do vertical farming. For example, where you have low electricity costs, or where it is very expensive to import fresh produce. The Middle East is a good example, or somewhere like Singapore where you have very limited space. It will be a peaceful coexistence between the different production methods.'
Drack pointed out that, with a forecast rise in demand for fresh produce over the next 20-30 years, all three setups would be needed to help capture growth.
The increase in popularity of vertical farming was down to three key factors, he continued, including sustainability, a desire for locally grown produce – the idea that 'small is beautiful' – and improved taste.
Chinese venture
Also speaking in the session was Kees Rijnhout of Jaguar the Fresh Company, whose Chinese subsidiary, Leopard Fruit Trading (LFT), has signed a deal with FoodVentures China to supply locally grown fresh greenhouse produce to Chinese consumers.

FoodVentures will soon start producing tomatoes and cucumbers according to the Dutch horticultural model on Chongming Island.
'We have always been seen by the market as an importer, so for us it is also important to be seen as a local supplier which means we are covering the whole year,' Rijnhout told World of Fresh Ideas. 'That is why we are getting into local production, particularly local vegetables. Chinese consumers are big vegetable eaters so it's a good addition to our current programme.'
Chinese consumers have traditionally seen imported produce as higher quality and safer, but Rijnhout confirmed that demand for locally grown was on the rise in the country.
'It is, especially because the produce that we are getting from our FoodVentures greenhouse is like we know in Europe, as we say, Dutch quality,' Rijnhout noted. 'It is in line with Dutch seeds, standards and packing, the whole thing, but it is still locally produced. This is the benefit of having this greenhouse facility.'