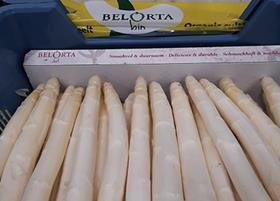 Belgian cooperative BelOrta this week auctioned the first organic asparagus of the season, supplied by producer Goertz from Maaseik.
According to BelOrta, this is only the second year that organic asparagus has been available at the cooperative, sold in various packaging options, including small packs. The season is the same as for conventional, running until around 23 June.
The growth of organic asparagus at BelOrta is one example of the growth witnessed by the cooperative's entire organic department.
In 2021, BelOrta had 88 product groups in organic and five in conversion, with key products in volume terms being cucumbers, chicory, tomatoes on the vine, Conference pears, Jonagold apples and blueberries. Greenhouse vegetables are also reportedly growing to keep up with consumer demand.
Last April, BelOrta introduced the Earth label for products in transition to organic to assist in marketing products that cannot yet bear the organic mark.
"With this, BelOrta wants to provide direct customers and consumers with more and better information, while also creating better market opportunities for these products in transition," BelOrta stated. "After all, the switch to organic farming is accompanied by a transition period in which the grower must comply with organic regulations from day one. However, the products may not be sold as organic during this period."