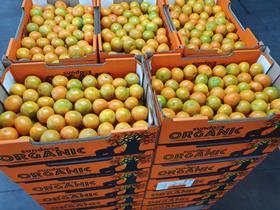 The organic South African easy peeler variety Nova is on its way to the Netherlands courtesy of OTC Organics.
Grown for OTC by Sundays Organic Growers Association, it marks the first time that the Nova variety has been marketed by the group.
The Nova is also known as a Clemenvilla mandarin, which makes it part of the Nadorcott family, and the taste and colour of the Nova is closer to a Nadorcott than a Clementine.
The fruit has already been harvested and packed by grower Sundays Organic Growers Association (SOGA), and is expected in the OTC Organics warehouse in Poeldijk by mid-July.
Marius Jürgens, grower since 2002 and production director at SOGA Organic, noted that sustainability was of paramount importance to group.
"As long as I can remember, sustainability has been part of me,' said Jürgens. 'My great-grandfather and his father started growing citrus just outside Kirkwood. They had no pesticides or fertilisers. They picked citrus, packed it in wooden boxes, sent it by train to Port Elizabeth and onto a steam ship to Europe. The fruit still arrived in a good condition overseas.
'I am trying to follow in their footsteps,' he added. 'Producing strong, healthy fruit in a natural way. Building the soil so that my children and their children can still farm here. Organic farming is all about sustainability."