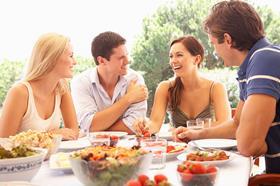 In the US, The Produce for Better Health Foundation (PBH) has announced the acceleration of its multi-year, cross-sector Lead The Change Movement.
The initiative unifies produce industry stakeholders and food system thought leaders to close the consumption gap and develop innovative, behaviour-based solutions that help people enjoy more fruits and vegetables for happier, healthier lives.
With nine out of ten Americans not eating enough fruits and vegetables each day, PBH has recognised the 'significant consumption crisis' affecting not just health, but also culture, society and economy.
PBH was urged by its members to create a strategic framework for Lead The Change that roots the call-to-action in research, and builds upon the collective excellence and values of the fruit and vegetable industry.
"The Lead The Change Movement is designed to maximise the power of PBH's unique thought leadership, widespread influencer network, credible scientific and consumer research, and, most importantly, our innovative members and partners," said Wendy Reinhardt Kapsak, PBH president and CEO.
"PBH is honoured to serve as the convener of this multi-sector, solutions-based initiative,' she continued. 'Our leaders and supporters agree that the only way to truly transform Americans' fruit and vegetable consumption behaviours is through a food system-based approach that embraces the contributions of all sectors as well as a spirit of continuous improvement, sparking innovation and stronger collaboration throughout the industry and beyond."
Research
In recent years, PBH has led comprehensive behavioural research to better understand disparities and challenges that have contributed to the fruit and vegetable consumption intention-action gap.
Research showed that, while people know fruits and vegetables support better health, there is a significant need to inspire and change behaviours by tapping into how people feel about eating fruits and vegetables to effectively influence what they do.
PBH's 'know-feel-do' behavioural framework now serves as the basis for all the foundation's programmes and communications.
"PBH is perfectly positioned to convene the multiple stakeholders necessary to take action toward truly shifting the way people feel and pursue their health and happiness through eating more fruits and vegetables," said Bil Goldfield, director of corporate communications for Dole Food Company and PBH chairman of the board. "Only then, will we be able to identify best practices and new opportunities that effectively improve fruit and vegetable consumption behaviours in a lasting and meaningful way."
In addition to involving all sectors of the fruit and vegetable industry, among others, Lead The Change includes research, communications, and thought leadership platforms to ensure the movement speaks with 'One Purpose, One Voice, and One Call-to-Action'.
"Now is the time for our industry to be inclusive and work across and within sectors – and with other food group partners – to identify how we can collectively solve the consumption challenge facing us all," said Matt Middleton, vice-president of retail sales, Ventura Foods/Marie's and PBH vice-chairman of the board.
CarrieAnn Arias, vice-president of marketing, Naturipe Farms and PBH secretary and treasurer added: "As an industry, we must embrace our role as leading an initiative focused on improving consumption of our products, and PBH's credibility with multiple stakeholders allows us to extend our reach."
The Lead The Change Movement also includes a comprehensive communications plan, to widely disseminate research findings and implications via traditional/mainstream media, trade press, PBH's extensive consumer- and influencer-targeted social platforms, professional meetings and other thought leadership opportunities.
Finally, the movement will include continuous evaluation, to ensure efforts are effectively driving improved fruit and vegetable consumption behaviours, with PBH and coalition members developing a framework for ongoing measurement and reporting.
"This is a pivotal time for produce stakeholders to stand together, united in one common goal of closing the fruit and vegetable consumption gap," said Roger Pepperl, marketing director, Stemilt Growers and serving PBH past chairman. "I urge my fellow produce industry leaders to step up and lead change together, to inspire new and lasting consumption behaviours that will benefit the public, as well as our industry, for the future."