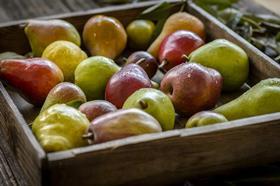 US marketing organisation Pear Bureau Northwest (PBNW) has launched a series of consumer outreach promotions using new digital platforms and content partners, Pictoline, Discovery Network, and a team of social media influencers.
Backed by USDA Agricultural Trade Promotion (ATP) funds, PBNW is looking to increase consumer outreach efforts and work together with different communication outlets, reaching a broader audience throughout Latin America, 'especially millennials and moms'.
According to the group, the content developed through these new alliances and partnerships is designed to highlight the key messages of USA Pears – namely health/nutritional benefits, versatility in different recipes, and the wide assortment of varieties available in Latin American markets.
Monica Moreno, marketing manager for Grupo PM, PBNW's marketing representatives in Mexico and Central America, said she saw the partnerships as a unique way to connect with consumers.
'Now more than ever, we need to talk directly to our consumers who have health and nutrition on their minds,' Moreno outlined. 'By working with large communication and content platforms like Discovery and Pictoline, and building our influencer team, we are looking to reach out to new and key audiences and show them how USA Pears can have a direct benefit on their health.'
Promotional programme

PBNW is working with Pictoline to develop shareable infographics featuring pears to broadcast on its social media channels.
Earlier this season, Pictoline developed and released a new USA Pears infographic, focusing specifically on how nutritional eating may help improve the immune system.
Cristina Lombana from Pictoline agreed that the USA Pears/Pictoline partnership had provided PBNW with a unique way to connect with Mexican consumers.
'Working with USA Pears gave us the freedom to do what we know best: visualise information, give life to new characters, and connect with our audience in an entertaining and creative way that other outlets may not allow for.'

With the Discovery Network, PBNW has launched a six-month promotional programme that began earlier this season. The consumer outreach includes a mix of TV and digital content that shows the versatility and nutritional value of fresh pears.
Discovery Kids, Food Network and Home & Health are showcasing USA Pears in video tips, video recipes and games to consumers in Latin America.
According to Nancy Garcia, ad sales executive, 'Discovery is a network where we care about people's passions and interests, so working with a partner like USA Pears is a highlight this year. These videos are reaching our audiences who interested in wellness, family and gourmet topics.'

Lastly, PBNW has gathered a group of media influencers who are sharing tips, recipes and nutritional values for pears on social media from November 2020 to March 2021.
This marks the first time PBNW has embarked on these type of integrated promotions across the Latin American market, reaching new audiences and gaining an important place in the minds of consumers as they shop.