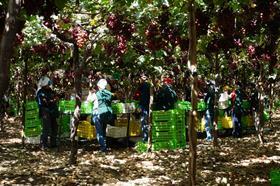 The Peruvian government has joined forces with an NGO to create a new label to certify family businesses "free of child labour".
The Andean nation has the highest rate of child labour in South America, with an estimated 21 per cent of children and adolescents between the ages of five and 17 believed to be working, many of them on farms producing asparagus, blueberries and other crops.
Around 1,500 small producers are currently preparing to be evaluated and due to obtain certification by 2020, according to a report in RFI.
"Since child labour in Peru is a rural issue and takes place within the framework of the family, it is largely hidden from the government," said María Gloria Barreiro, director of the Development and Self-Management NGO.
"The certification will be granted to small producers "not for complying with the law, but for their extraordinary efforts in preventing and eradicating child labour.
"It's not about children not helping at home, it's about drawing that line that divides help at home, training and learning activities, and what constitutes a danger."
The government hopes that products labelled with the seal will eventually attract a price premium similar to that fetched by organic products.
Mexico has run a similar scheme since 2010 and today 178 companies in the agricultural sector are certified.
"Here, the export market is demanding that products, regardless of their quality, can also demonstrate that they benefit the population, and proving that they are free from child labour is one such example," said Jorge Montenegro, deputy director at the Mexican Labour Secretariat.
Barreiro said that the response from consumers would be crucial to the success of the scheme.
"When you're drinking coffee in Paris, you don't know if it was produced by children who stopped going to school or put their health at risk, that's why the seal is also a call to responsible consumers," she noted.
Barreiro stressed that the seal must be accompanied by social programmes to improve the economic situation of small producers and ensure their children have access to education.